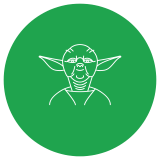 Yoda-Quotes
Kirstene Groth
3 devices
Available to install from
the Fitbit mobile app
Description
Yoda-Quotes is an app for Fitbit Watches that generates a pseudo-random quote from some of Yoda's most famous and inspiring Jedi Master teachings:
"A Jedi uses the Force for knowledge and defense, never for attack."
"Luminous beings we are, not this crude matter."
"Once you start down the dark path, consume you it will."
Yoda-Quotes is built for Fitbit Devices: Ionic, Versa, and Versa Lite.