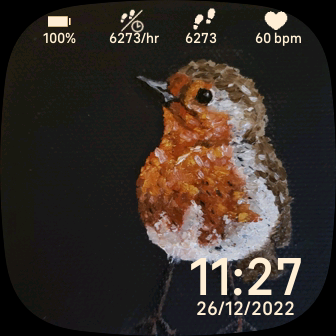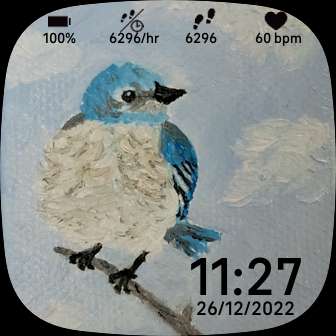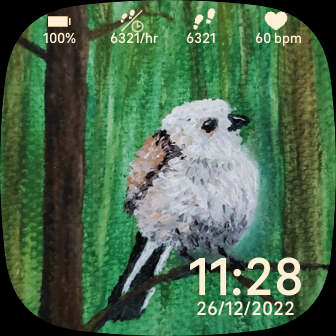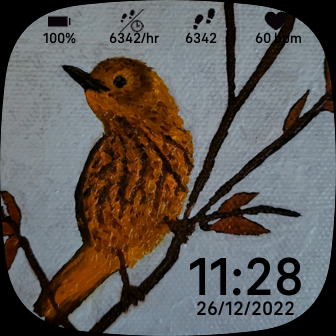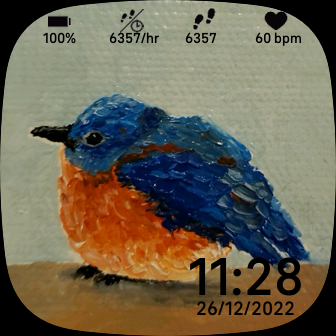 Little Birds
Tim Dorscher
2 devices
Available to install from
the Fitbit mobile app
Description
Paintings of little birds for Versa 3 and Sense. One painting for each day of the week if you would like! Simply tap the watch face to change. Tracks: Steps, Steps/hr, Heart Rate and Battery Life.
If you have any comments, suggestions or other feedback please use the support link in settings. Any feedback is helpful as we continue to learn and add new clockfaces.
Update 1.0.3 - Updated with Steps per hour and changed text so it is easier to read
Update 1.0.4- Updated with user selectable date formats found in the Setting of the clock face in the Fitbit app.
Update 1.0.5 - Based on feedback I have made the font size larger to help make it easier to read.
Update 1.06 - The steps per hour was sometimes showing all steps per day. I believe I have remedied that issue.
Update 1.0.7 - Thank you to all of you who let me know the date was stuck. I have fixed that issue. I truly appreciate the feedback.
Upcoming - I am thinking of adding a toggle for each stat so you can see which ones you want if any. Please let me know if this is of interest to you or not. I also appreciate all feedback as it helps me make the Clock Face better.
Thank you for downloading this Clock Face.