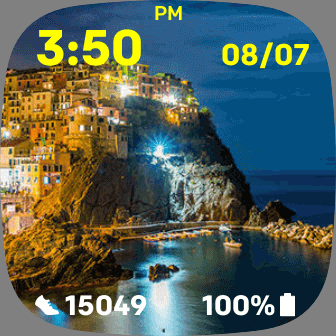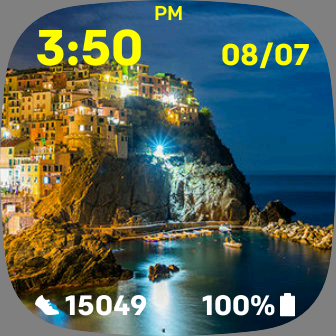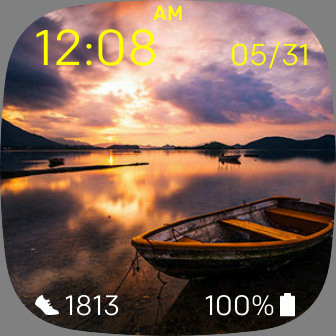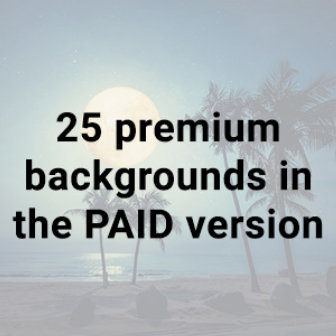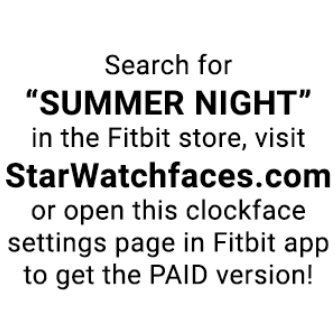 Summer Night FREE
StarWatchfaces
6 devices
Available to install from
the Fitbit mobile app
Description
💕 See our new Valentine's Day Collection https://starwatchfaces.com/vday 💕
This is the FREE version of Summer Night clockface. To get the PAID version visit https://gallery.fitbit.com/details/cb32823e-afb6-4ce6-9e72-7905ddca1396
The FREE version has 3 backgrounds, 10 colors and 5 fonts for time, date and stats. Only steps and active minutes available in the stats bar. Customize it the way you want from the clockface settings page inside Fitbit app.
Tap the screen center to change background image, tap the stats to switch between them.
Paid version features:
🌴 25 amazing summer backgrounds!
🌴 multiple date formats!
🌴 multiple sizes for time and date
🌴 stats bar with battery, steps, bpm, active minutes, distance and floors (floors not available on Versa Lite)!
🌴 36 colors for clock, date, stats, time and stats bar background
🌴 transparency level for time and stats bar
🌴 24 fonts for time, date and stats
👍 Follow us for updates & promotions:
- Facebook: https://fb.com/starwatchfaces
- Instagram: https://instagram.com/starwatchfaces
- Telegram: https://t.me/starwatchfaces
- Newsletter: https://starwatchfaces.com/nl/
Over 1 million combinations! Get the PAID version https://gallery.fitbit.com/details/cb32823e-afb6-4ce6-9e72-7905ddca1396