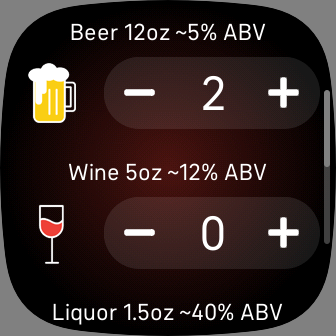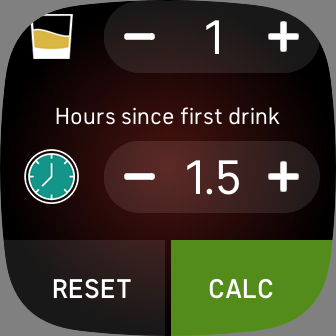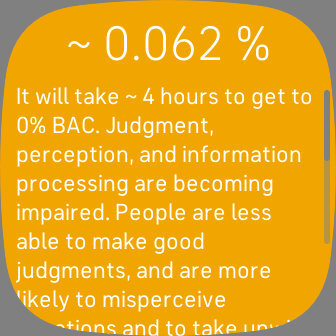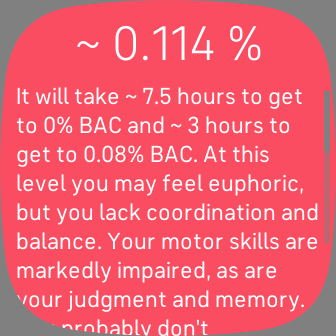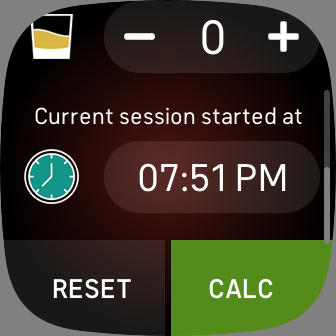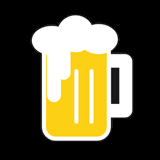 BAC Calculator
Andrew Korshunov
2 devices
Available to install from
the Fitbit mobile app
This app requires a payment that is managed by the developer in-app.
Description
Let your fitness tracker track how many drinks have you fit tonight!
Estimate your Blood Alcohol Content level based on your weight, gender, how many drinks you've had and how long you've been drinking for.
After you've done the first calculation, the app will remember it and next time you open the app the same night, you'll only need to log the most recent drinks to get your up-to-date BAC estimation. Or don't log if you haven't been drinking since, just to check your remaining BAC.
As well as the BAC estimation itself, the app will also estimate how long will it take to sober up completely, and to get down to .08% BAC. It will also give you the short description of how you might be feeling or what you might need to be prepared for, based on your BAC level estimation.
Although the formula used does try to be as precise as possible, it does not consider some factors that may also influence your BAC level, such as your age, amount of food you've ingested, personal alcohol metabolism rate, personal alcohol tolerance and many others.
⚖️ Please make sure you've logged your weight in FitBit app. You can also choose whether you want to use US fl oz or milliliters in FitBit app (App Settings / Units).
💰 Trial period lasts 24 hours after which you'll be prompted to pay $1.99 to continue using the app.
🛑 Please don't drive if you've been drinking, regardless of your BAC level.
⚠️ Disclaimer: This calculator only approximates your BAC level and is meant for educational purposes only. It should at no circumstance be relied upon to determine if you're fit to drive or work, nor do the BAC Calculator or information generated from it constitute legal or medical advice.
This app requires a payment that is managed by the developer in-app.