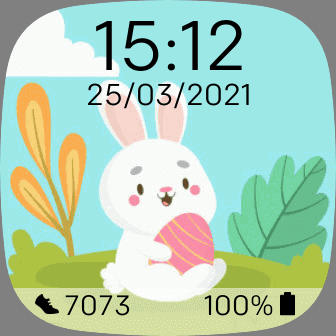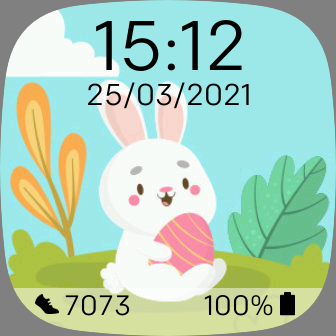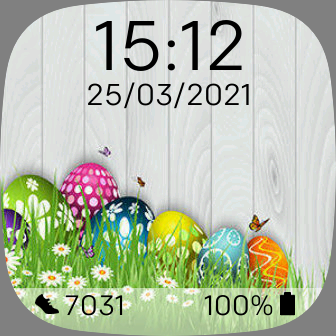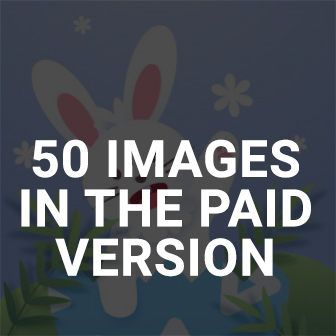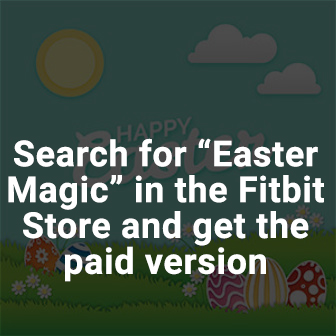 Easter Magic FREE
StarWatchfaces
6 devices
Available to install from
the Fitbit mobile app
Description
💕 See our new Valentine's Day Collection https://starwatchfaces.com/vday 💕
🐰 Celebrate Easter with our unique Easter Magic FREE clockface! 🐰
Features:
🥚 3 background images (tap the top left corner to change it)
🥚 digital time 12/24H format
🥚 clock - 6 colors, 2 sizes, 24 fonts
🥚 date - 6 colors, 2 sizes, 24 fonts, 4 date formats
🥚 stats bar with active zone minutes, kcal, steps, distance (in km or miles), bpm, battery and floors (floors not available on Versa Lite)
🥚 set status bar bg color, opacity and stats color, 6 colors available (tap to change shown stats!)
Customize the clockface the way you want it from the clockface settings page inside Fitbit app! Over 1000 possible combinations!
Want more images and colors? Buy the paid version and get 50 images, more colors and more date formats! Get now: https://gallery.fitbit.com/details/8eb02479-345c-480c-83f6-c454aee1ec13
Buy our bundles and save $$$: https://starwatchfaces.com/buy/
👍 Follow us for updates & promotions:
- Facebook: https://fb.com/starwatchfaces
- Instagram: https://instagram.com/starwatchfaces
- Telegram: https://t.me/starwatchfaces
- Newsletter: https://starwatchfaces.com/nl/