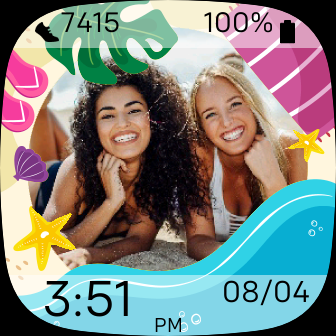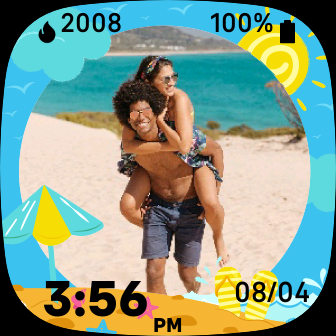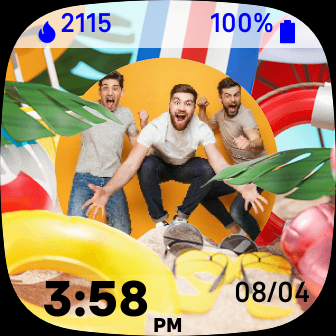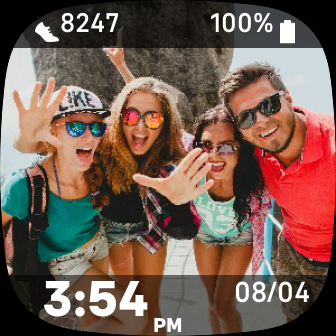 Summer Photo Frame FREE
StarWatchfaces
5 devices
Available to install from
the Fitbit mobile app
Description
💕 See our new Valentine's Day Collection https://starwatchfaces.com/vday 💕
This summer, create amazing memories and keep them on your wrist, with our new watchface, Summer Photo Frame!
If you like this watchface and want more photo frames and features, please purchase the paid version: https://gallery.fitbit.com/details/93a49e79-29b0-4fee-979c-1bff48397f52
☀️ special photo frame design
☀️ 3 different photo frames - choose your frame from the watchface settings page or by tapping twice the screen middle area
☀️ timebar with 12/24H digital clock and date
☀️ multiple date formats
☀️ statsbar with battery, steps and calories
☀️ RGB color selector for clock, date, stats, timebar & statsbar background
☀️ transparency level for time & stats bar
☀️ 8 fonts for time, date and stats
☀️ tap stats to change shown stats
Each photo frame is unique. Some are bigger, some are smaller. Sometimes you might need to reupload a photo from the clockface settings page, in order to make it fit perfectly!
Use the clockface settings page to set the frame image and colors for date, time and stats.
If you like this watchface and want more photo frames and features, please purchase the paid version: https://gallery.fitbit.com/details/93a49e79-29b0-4fee-979c-1bff48397f52
Paid version features:
- 30 photo frames
- more stats and features
Buy a bundle and save $$$: https://starwatchfaces.com/buy/
All our designs: https://starwatchfaces.com
👍 Like us on Facebook for updates & promotions https://fb.com/starwatchfaces 👍
Tags: summer, family, photo frame, dearest, husband, wife, kids, children, happy moments, dearest one, precious memories