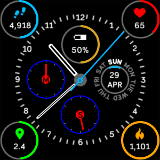 Chronograph
Nev Rawlins
2 devices
Available to install from
the Fitbit mobile app
Description
Third in my "Chrono" series offering chronograph functionality with minutes and seconds dials:
- Start/stop the timers with the top right button
- Reset the timers with the bottom right button
At the corners: steps, heart rate, distance (in miles or km depending on user profile settings) plus a choice bottom right.
Within the clock: battery level and the date, plus the 2 timer dials.
The battery arc changes color depending on the level: red if < 20%, amber 20%-50% and green > 50%.
Configuration options:
1. Hide second hand
2. Hour markers as numbers or ticks
3. Activity choice bottom right: calories, floors or active minutes
4. Option to set display to always on - only use during the period being timed, then switched back off to save battery.
This was developed from 'FullChrono' at a request from A.J.Lebeau.
If you like this, or any of my clockfaces, you can encourage me to do more by donating via PayPal at: https://www.paypal.me/nevwatch