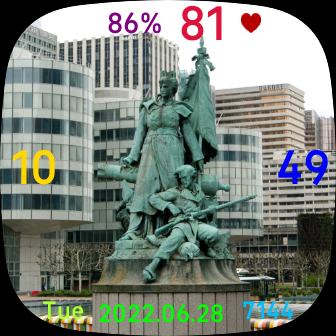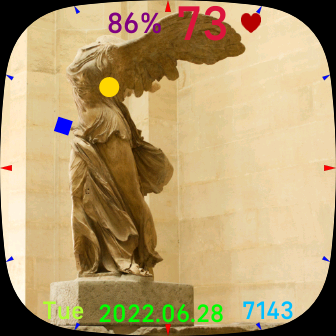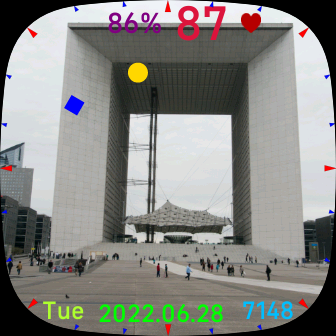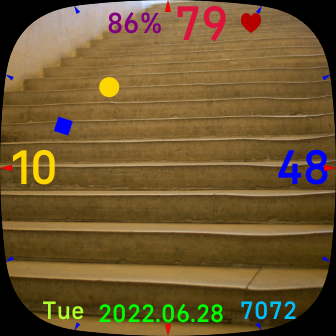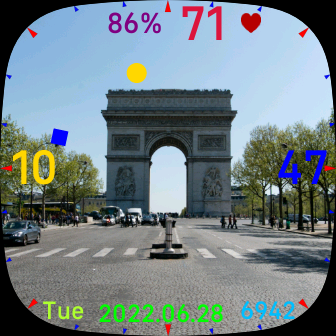 Perimeter Paris
Fabrikisto
2 devices
Available to install from
the Fitbit mobile app
Description
Perimeter Analog and Digital clock face featuring images of Paris
Features:
- Designed for Sense and Versa 3, tested on Sense
- Shows battery percentage, heart rate (when display is active), Steps
- Day is shown as conventional English contractions
- Date format is fixed at YYYY.MM.DD
- Analog Time can optionally be displayed as a circle for Hours, square for Minutes
- Digital Time can optionally be displayed as Hours on the left, Minutes on the right
- All data are concentrated around the perimeter
- This allows the image to be the focus point
- Each datum may be custom coloured via the companion app
- Digital and Analog time share colour settings
- The default image may be replaced by uploading another from the user's phone
- The default image is a random selection of 16
- The peripheral Analog markers adjust for 12/24 hour preference
- The 24 hour Analog clock uses the noon at top convention
- Based on "Perimeter ADB"
- All photos taken by the author
Touch anywhere on the lower half of the watch face to select another library image. There is a 5 second delay. Your custom image is NOT in the rotation. Any custom image will reload on watch reload, for example if you switch to an App and back.
If you like what you see, please send me some money at https://paypal.me/fabrikisto