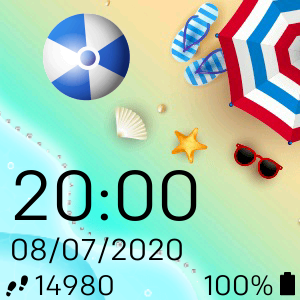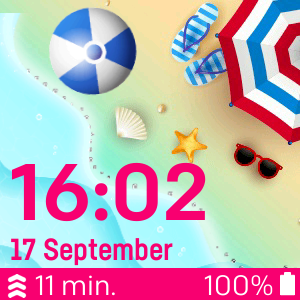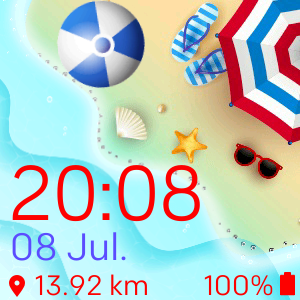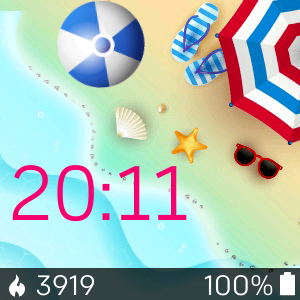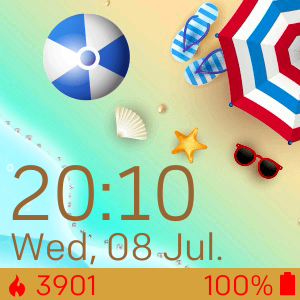 Beach Waves
StarWatchfaces
3 appareils
Installation offerte à partir de
l'application mobile Fitbit
Cet affichage heure et statistique nécessite un paiement qui sera géré par le développeur dans l'application
Description
🔥 Use code SUMMERSALE and get 20% off! 🔥
Enjoy summer with our new clockface: Beach Waves!
Features:
🌊 animated waves
🌊 12/24H digital time with multiple fonts, colors & sizes
🌊 digital date with multiple fonts, colors, formats & sizes
🌊 stats bar with multiple font and background colors, opacity settings, battery status, steps/bpm/active zone minutes/distance/floors stats (floors not available on Versa Lite)
🌊 tap stats bar to change the displayed stats
🌊 customize it the way you want it from the clockface settings page inside Fitbit app
To use the watchface, a one time payment of 1.49$ + taxes is required after 1h trial. Go to https://kzl.io and enter the code shown on screen.
All watchfaces: https://starwatchfaces.com
Bundles https://starwatchfaces.com/buy/
Tags: summer, beach, waves, beach ball, sunglases, relax, summer vibes, ocean, water, vacation, holiday, sand, wave, cute, stats, steps, distance, battery, stats bar, vibes, colors, animated, time, azm
Cet affichage heure et statistique nécessite un paiement qui sera géré par le développeur dans l'application