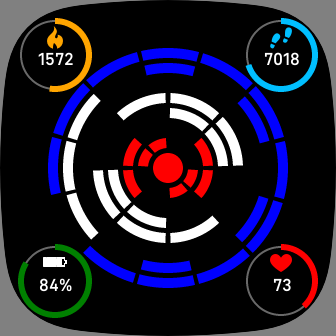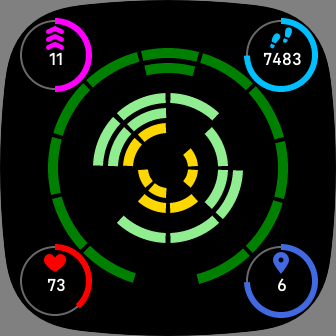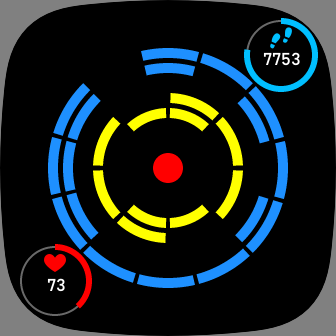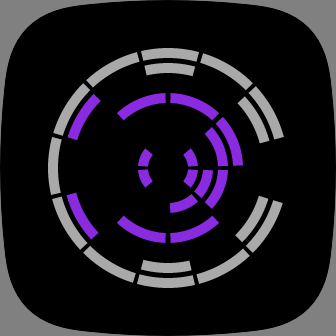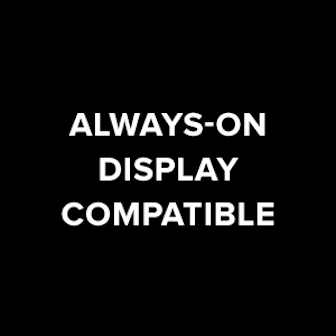 Quadrant Hybrid
Nev Rawlins
6 デバイス
Fitbit モバイルアプリは
からインストールできます
説明
A futuristic hybrid clock face - part analog, part digital. Originally appeared on Pebble watches - here with added activity information.
5-minutes blanked out in typical analog positions. Additional 4 single minute markers just inside that on the right.
In 12-hour mode, the 1 of a 10-hour appears on the left just inside the 5-minute ring. In 24-hour mode, this is split - top & bottom sections. Remaining single hours are built from segments of rings forming sci-fi glyphs, recognisable as digits.
A central circle appears as the PM indicator in 12-hour mode.
Setting options:
- change colors of minutes & hour rings (inner & outer)
- set 10-hour arc to same as minutes, outer or inner hour digit rings
- activity items can be changed or hidden
Note. When a goal is reached, the arc color changes to lime green.
Always-on Display compatible – requires Versa 2, Versa 3 or Sense with AOD enabled.
The screenshots show: 12:44PM, 9:31AM, 10:58PM, 23:19 (24-hour mode)
This design was created by Peter Fletcher, from the UK & is published with his permission.