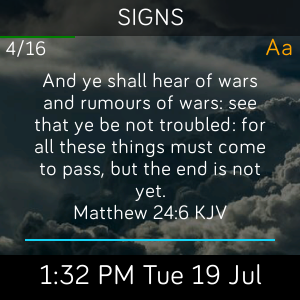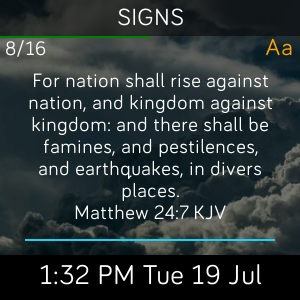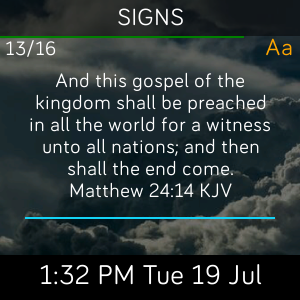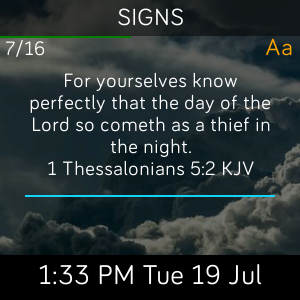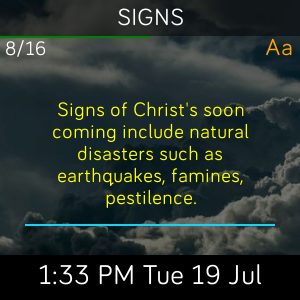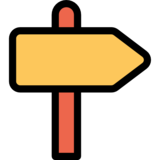 Signs
Giovanni Saberon
4 devices
Available to install from
the Fitbit mobile app
This app requires a payment that is managed by the developer in-app.
Description
Read, Meditate, Memorise bible verses about the signs of the last days on your watch.
ABOUT THE SIGNS OF THE END
Today the signs of the times declare that we are standing on the threshold of great and solemn events. Everything in our world is in agitation. Before our eyes is fulfilling the Saviour's prophecy of the events to precede His coming: "Ye shall hear of wars and rumors of wars. . . . Nation shall rise against nation, and kingdom against kingdom: and there shall be famines, and pestilences, and earthquakes, in divers places."
The present is a time of overwhelming interest to all living. Rulers and statesmen, men who occupy positions of trust and authority, thinking men and women of all classes, have their attention fixed upon the events taking place about us. They are watching the relations that exist among the nations. They observe the intensity that is taking possession of every earthly element, and they recognize that something great and decisive is about to take place,--that the world is on the verge of a stupendous crisis.
The Bible, and the Bible only, gives a correct view of these things. Here are revealed the great final scenes in the history of our world, events that already are casting their shadows before, the sound of their approach causing the earth to tremble, and men's hearts to fail them for fear.
THIS APP INCLUDES:
- 16 important bible passages from the King James Version Bible focusing on the signs of the end of the world.
- Each passage includes a short explanation in yellow font
- Displays current time and date
- Ability to change the font size for readability
- Heart Rate display
- Calories
- Steps
HOW TO USE:
- Tap on the bottom left/right to move between different passages
- Scroll down to read a short explanation of the passage
- Tap on the bottom center to toggle between time/steps/calories/heart rate display.
- Tap on the "Aa" button to resize font. (Font will become small after reaching the maximum size)
PRICE: $1.99
TAGS: Signs of the End of the World, Bible, Bible Memory Verse
This app requires a payment that is managed by the developer in-app.