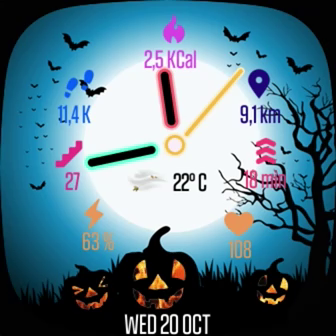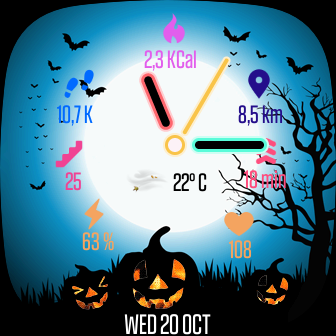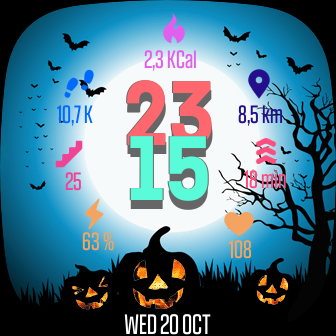 Blue Night
MagicClockFaces
5 devices
Available to install from
the Fitbit mobile app
This clock face requires a payment that is managed by the developer in-app.
Description
🍀 Save over 90% by choosing one of our bundle, tap here: https://cutt.ly/OnlyMagicClockFaces
👉 Follow us on Facebook https://www.facebook.com/magicclockfaces and get ready for each day offers
⏰ Watch Face displays:
🔥 Calories monitor (Kilojoules / KiloCalories)
📍 Distance (Miles / Kilometers)
👟 Steps Counter
🏃 Active Minutes Zone
⛰️ Floors monitor ( not available for ⌚Versa Lite )
🔋 Battery monitor
❤️ Heart rate monitor
⌚ 12/24 Hour Format
📅 Date Display
⛅ Weather
💁🏻 Fast Support
⚡ Energy Efficient
👉 Clockface only costs 1.49$. (Lifetime purchase).
👉 Payment is possible via Paypal or Credit Card 💳.
ℹ️ You can customize the clockface by going into companion section of the face using your Fitbit Mobile Application.
⚠️ For installation, download the watch face using Fitbit Mobile App and follow the on screen watch instructions. If you already bought a bundle or clockface but the watch ask for activation again follow on screen instructions and opt for already bought product ( remember all purchase are for Lifetime ).
🏷️ tags: art digital analog sound noise weather broadway theatre newsies beautiful wicked art halloween spooky horror october halloweencostume halloweenmakeup spookyseason happyhalloween fall trickortreat autumn scary halloweendecor cosplay creepy ghost moon shineeforever shawolsforever bluesky moonlight onew nightsky cbluemoon nature
This clock face requires a payment that is managed by the developer in-app.