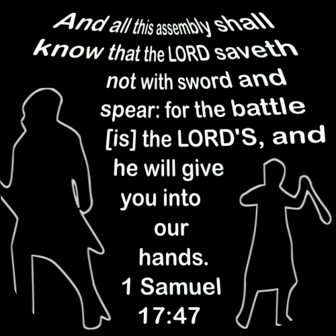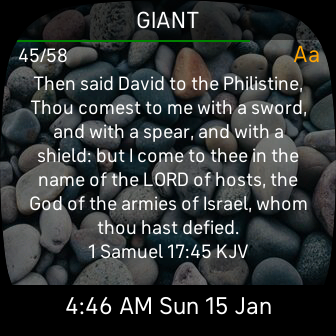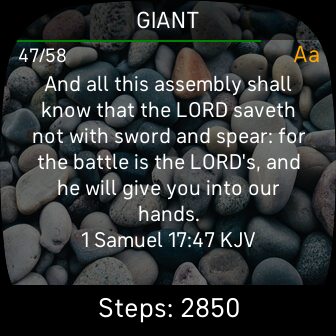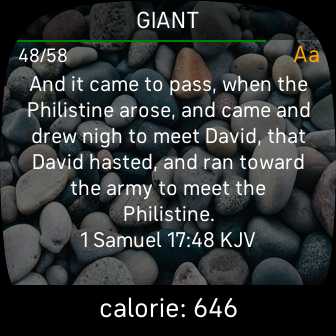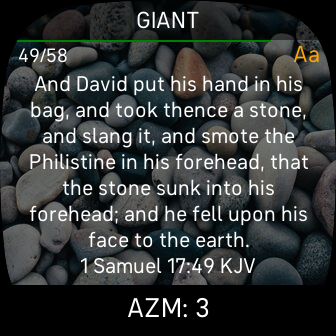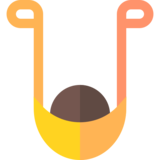 Giant
Giovanni Saberon
6 devices
Available to install from
the Fitbit mobile app
Payment required
This app requires payment and is managed by a 3rd-party developer that is not endorsed by Fitbit.
Proceed with caution.
Payment required
This app requires payment and is managed by a 3rd-party developer that is not endorsed by Fitbit.
Proceed with caution.
Description
Read, Meditate, Memorise Bible verses about the story of David and Goliath on your watch.
WATCH VIDEO DEMO
Visit https://gesab001.github.io/fitbit?appName=giant&appType=app
ABOUT DAVID AND GOLIATH
Goliath trusted in his armor. He terrified the armies of Israel by his defiant, savage boastings, while he made a most imposing display of his armor, which was his strength. David, in his humility and zeal for God and his people, proposed to meet this boaster. Saul consented, and had his own kingly armor placed upon David. But David would not consent to wear it. He laid off the king's armor; for he had not proved it. He had proved God, and in trusting in him had gained special victories. To put on Saul's armor would give the impression that he was a warrior, when he was only little David, who tended the sheep. He did not mean that any credit should be given to the armor of Saul; for his trust was in the Lord God of Israel. He selected a few pebbles from the brook, and with his sling and staff, his only weapons, he went forth in the name of the God of Israel to meet the armed warrior.
Goliath disdained David; for his appearance was that of a mere youth untaught in the tactics of warfare. Goliath railed upon David, and cursed him by his gods. He felt that it was an insult upon his dignity to have a mere stripling, without armor, come to meet him. He made his boast of what he would do to him. David did not become irritated because he was looked upon as so inferior, neither did he tremble at the giant's terrible threats, but replied, "Thou comest to me with a sword, and with a spear, and with a shield: but I come to thee in the name of the Lord of hosts, the God of the armies of Israel, whom thou hast defied."
FEATURES:
- 58 Bible verses from the King James Version about the story of David and Goliath.
- Displays current time and date
- Ability to change the font size for readability
- Heart Rate display
- Calories
- Steps
- Distance
- Floors
- Active Zone Minutes (AZM)
HOW TO USE:
- Tap on the main verse to read the whole story.
- Tap on the title on the top screen to switch to the main verse.
- Fitbit OS sets a limit to how many apps can be installed in your watch. If this app doesn't install, maybe you have to delete some apps to make space for this app.
- Tap on the bottom left/right to move between different verses.
- Tap on the bottom center to toggle between time, steps, calories, active zone minutes, heart rate, floors, distance display.
- Tap on the 'Aa' button to resize font. (Font will become small after reaching the maximum size).
FREE 1 HOUR TRIAL
PRICE: $1.99
HOW TO PURCHASE:
Method 1: To purchase now, visit https://kiezelpay.com/code/?s=45B99D50-74A3-780C-3E13-9377074B11EA&dsu=1662743&p=44752-48363&platform=fitbit. Check your email for instructions on installing your purchased item.
Method 2: After the trial is over, when a code appears on your smart watch device, visit https://kzl.io/code.
TAGS: David, Goliath, Bible Story, Old
This app requires a payment that is managed by the developer in-app.