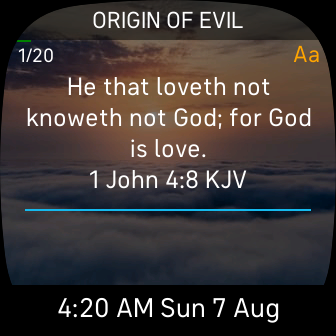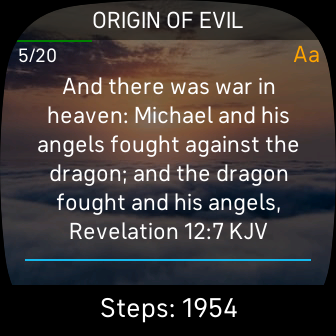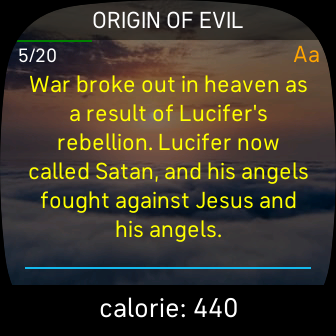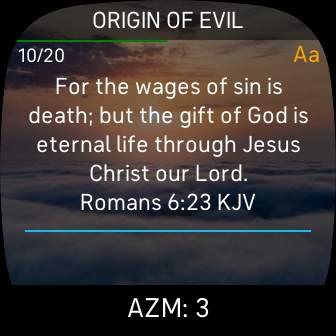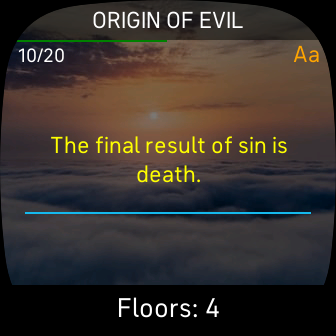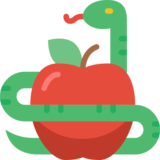 Origin of Evil
Giovanni Saberon
6 devices
Available to install from
the Fitbit mobile app
This app requires a payment that is managed by the developer in-app.
Description
Read, Meditate, Memorise bible verses about the origin of evil on your watch.
ABOUT THE ORIGIN OF EVIL
To many minds the origin of sin and the reason for its existence are a source of great perplexity. They see the work of evil, with its terrible results of woe and desolation, and they question how all this can exist under the sovereignty of One who is infinite in wisdom, in power, and in love. Here is a mystery of which they find no explanation. And in their uncertainty and doubt they are blinded to truths plainly revealed in God's word and essential to salvation. There are those who, in their inquiries concerning the existence of sin, endeavor to search into that which God has never revealed; hence they find no solution of their difficulties; and such as are actuated by a disposition to doubt and cavil seize upon this as an excuse for rejecting the words of Holy Writ. Others, however, fail of a satisfactory understanding of the great problem of evil, from the fact that tradition and misinterpretation have obscured the teaching of the Bible concerning the character of God, the nature of His government, and the principles of His dealing with sin.
FEATURES:
- 20 Bible passages from the King James Version Bible about The origin of evil.
- Each passage includes a short explanation in yellow font which appears at the bottom of each passage.
- Displays current time and date
- Ability to change the font size for readability
- Heart Rate display
- Calories
- Steps
- Distance
- Floors
- Active Zone Minutes (AZM)
HOW TO USE:
- Fitbit OS sets a limit to how many apps can be installed in your watch. If this app doesn't install, maybe you have to delete some apps to make space for this app.
- Tap on the bottom left/right to move between different passages
- Scroll down to the bottom to read a short explanation of the passage
- Tap on the bottom center to toggle between time, steps, calories, active zone minutes, heart rate, floors, distance display.
- Tap on the 'Aa' button to resize font. (Font will become small after reaching the maximum size)
FREE 1 HOUR TRIAL
PRICE: $1.99
TAGS: Satan, Lucifer, Origin Of Evil, War, Bible Memory Verse
CREDITS: Original sin icons created by Smashicons - Flaticon (https://www.flaticon.com/free-icons/original-sin)
This app requires a payment that is managed by the developer in-app.