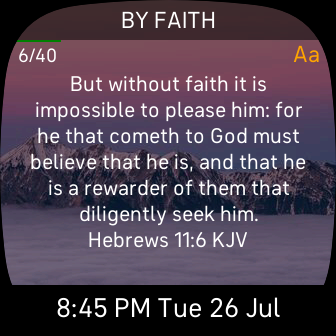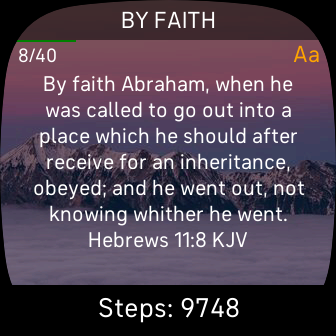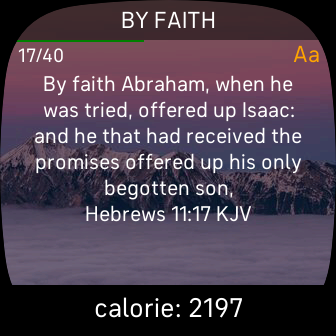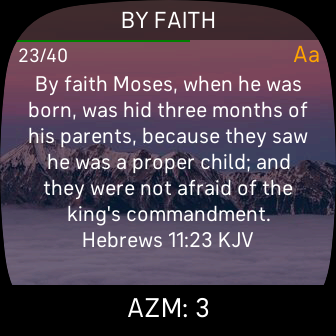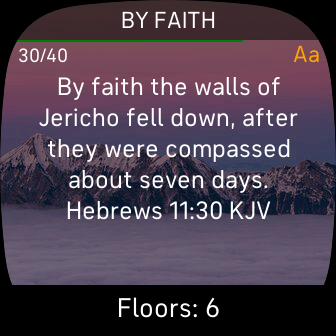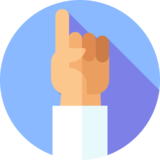 By Faith
Giovanni Saberon
6 devices
Available to install from
the Fitbit mobile app
Payment required
This app requires payment and is managed by a 3rd-party developer that is not endorsed by Fitbit.
Proceed with caution.
Payment required
This app requires payment and is managed by a 3rd-party developer that is not endorsed by Fitbit.
Proceed with caution.
Description
Read, Meditate, Memorise Bible verses from Hebrews 11, widely known as the Hall of Faith, on your watch.
WATCH VIDEO DEMO
Visit https://gesab001.github.io/fitbit?appName=by_faith&appType=app
ABOUT BY FAITH
Faith is the very lifeblood of the soul. Its presence gives warmth, health, consistency, and sound judgment. Its vitality and vigor exert a powerful though unconscious influence. The life of Christ in the soul is as a well of water springing up unto everlasting life. It leads to a constant cultivation of the heavenly graces and to a kindly submission in all things to the Lord.
The greatest victories gained for the cause of God are not the result of labored argument, ample facilities, wide influence, or abundance of means; they are gained in the audience chamber with God, when with earnest, agonizing faith men lay hold upon the mighty arm of power.
Faith is trusting in God,--believing that He loves us, and knows what is for our best good. Thus, instead of our own way, it leads us to choose His way. In place of our ignorance, it accepts His wisdom; in place of our weakness, His strength; in place of our sinfulness, His righteousness. Our lives, ourselves, are already His; faith acknowledges His ownership, and accepts its blessings. Truth, uprightness, purity, are pointed out as secrets of life's success. It is faith that puts us in possession of these. Every good impulse or aspiration is the gift of God; faith receives from God the life that alone can produce true growth and efficiency.
FEATURES:
- 40 Bible passages from the King James Version Bible from the whole chapter of Hebrews 11.
- Displays current time and date
- Ability to change the font size for readability
- Heart Rate display
- Calories
- Steps
- Distance
- Floors
- Active Zone Minutes (AZM)
HOW TO USE:
- Fitbit OS sets a limit to how many apps can be installed in your watch. If this app doesn't install, maybe you have to delete some apps to make space for this app.
- Tap on the bottom left/right to move between different passages
- Tap on the bottom center to toggle between time, steps, calories, active zone minutes, heart rate, floors, distance display.
- Tap on the 'Aa' button to resize font. (Font will become small after reaching the maximum size)
FREE 1 HOUR TRIAL
PRICE: $1.99
HOW TO PURCHASE:
Method 1: To purchase now, visit https://kiezelpay.com/code/?s=45B99D50-74A3-780C-3E13-9377074B11EA&dsu=1662743&p=44752-44330-44210&platform=fitbit
Method 2: After the trial is over, when a code appears on your smart watch device, visit https://kzl.io/code.
TAGS: Hebrews 11, By Faith, Hall Of Faith, Bible Memory Verse
CREDITS: Faith icons created by Freepik - Flaticon (https://www.flaticon.com/free-icons/faith)
This app requires a payment that is managed by the developer in-app.