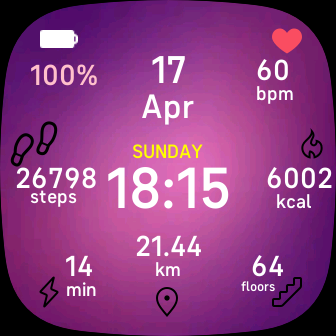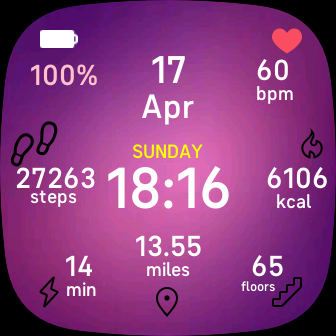 Clock in Pink
Vanessa Viana
1 device
Available to install from
the Fitbit mobile app
Description
Clock Stats Heavy with pink/purple screen. The status shown are: Date, time, day of the week, battery, heart rate, steps, calories, elevation gain, distance, and active zone minutes. Now supporting distance in metric and US system.
Releases history:
- Version 2.0.0: Initial version
For support requests or any related query, send me an email to TheCarbonaraSpecialist@gmail.com
For previous releases and previous release notes, please search for "ClockScreen001" for follow the link "https://gallery.fitbit.com/details/0b060ccb-26ed-4a38-8d07-14158f0c2278" -thanks!