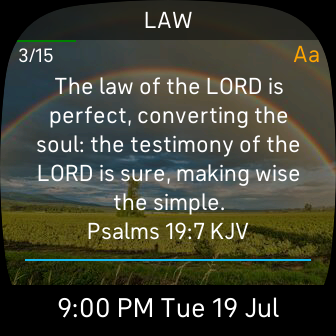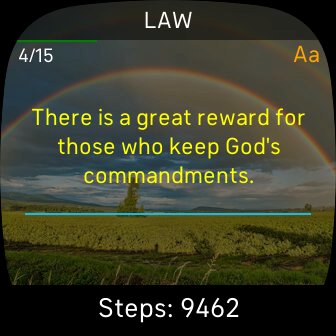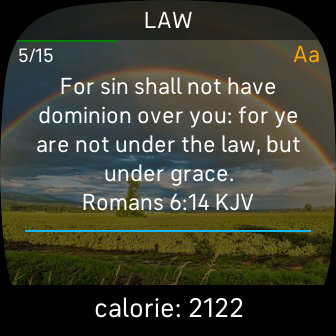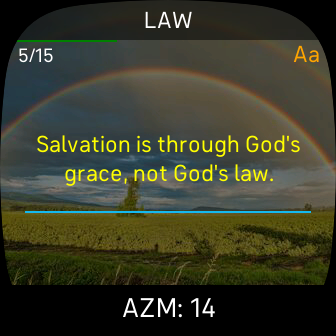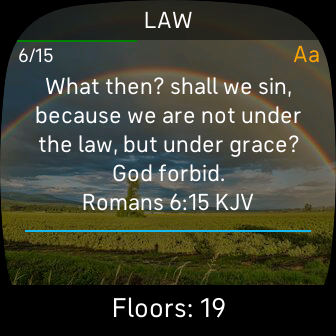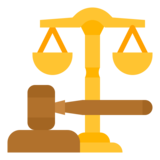 Law
Giovanni Saberon
6 devices
Available to install from
the Fitbit mobile app
Payment required
This app requires payment and is managed by a 3rd-party developer that is not endorsed by Fitbit.
Proceed with caution.
Payment required
This app requires payment and is managed by a 3rd-party developer that is not endorsed by Fitbit.
Proceed with caution.
Description
Read, Meditate, Memorise bible verses about the law of God on your watch.
WATCH VIDEO DEMO
Visit https://gesab001.github.io/fitbit?appName=law&appType=app
ABOUT THE LAW OF GOD
The law of God is the foundation of all enduring reformation. We are to present to the world in clear, distinct lines the need of obedience to His law. The great reformative movement must begin in the home. Obedience to God's law is the great incentive to industry, economy, truthfulness, and just dealing between man and man.
Temporal and spiritual prosperity are made conditional upon obedience to the law of God. But we do not read God's Word, and thus become familiar with the terms of the blessing that is to be given to all who hearken diligently to God's law and teach it diligently in their families. Obedience to God's Word is our life, our happiness. We look upon the world and see it groaning under the wickedness and violence of men who have degraded the law of God. He has withdrawn His blessing from orchard and vineyard. Were it not for His commandment-keeping people who live upon the earth, He would not stay His judgments. He extends His mercy because of the righteous, who love and fear Him.
The law of love being the foundation of the government of God, the happiness of all intelligent beings depends upon their perfect accord with its great principles of righteousness. God desires from all His creatures the service of love—service that springs from an appreciation of His character. He takes no pleasure in a forced obedience; and to all He grants freedom of will, that they may render Him voluntary service.
FEATURES:
- 15 important bible passages from the King James Version Bible focusing on God's law.
- Each passage includes a short explanation in yellow font
- Displays current time and date
- Ability to change the font size for readability
- Heart Rate display
- Calories
- Steps
- AZM
- Distance
- Floors
HOW TO USE:
- Tap on the bottom left/right to move between different passages
- Scroll down to read a short explanation of the passage
- Tap on the bottom center to toggle between time/steps/calories/AZM/Distance/Floors display
- Tap on the "Aa" button to resize font. (Font will become small after reaching the maximum size)
PRICE: $1.99
HOW TO PURCHASE:
Method 1: To purchase now, visit https://kiezelpay.com/code/?s=45B99D50-74A3-780C-3E13-9377074B11EA&dsu=1662743&p=44752-44272-45493-44108&platform=fitbit
Method 2: After the trial is over, when a code appears on your smart watch device, visit https://kzl.io/code.
TAGS: Law of God, Bible, Bible Memory Verse
This app requires a payment that is managed by the developer in-app.