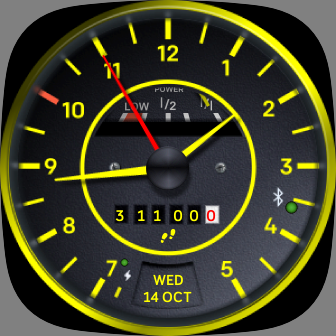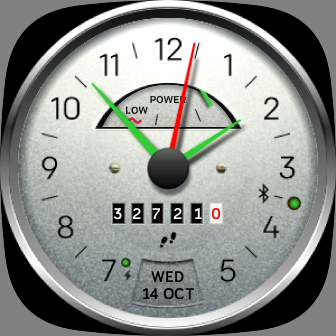 Speedometer II
BV Designs
8 devices
Available to install from
the Fitbit mobile app
Description
Based on a user request by Joe LaMuraglia, we proudly present this beautiful clockface, the result of a joint collaboration of great design, animation and development!
All my clocks: http://bit.ly/2QUjXu9
Website: https://www.bvdesigns.info
Shop: http://bit.ly/330pp1d
Credits:-
Graphics/Design: Marcel Sasik
Animation: Paul Niven
Development: BV Designs
Graphics inspired by images provided by requester
Features:-
- Two themes - dark and light.
- Hands animate when screen turns on.
- Fuel gauge and light reflects battery level.
- Colour - foreground and text (dark theme), clock hands (light).
- Language support for dates.
- Date format, show/hide second hand, battery, BT indicator, vibration, 12/24 hr (Fitbit profile)
- AOD enabled (Versa 2 only) (may affect battery)
Health:
Tap bottom screen to cycle through Heart Rate, Distance, Floors (except Versa Lite) and Active Minutes.