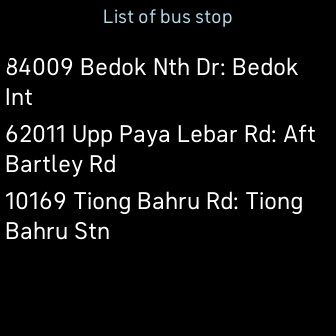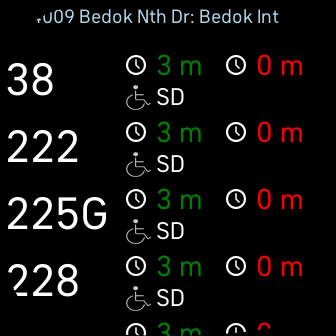 BusSG
Lim Zi Ming
6 devices
Available to install from
the Fitbit mobile app
Description
BusSG is a simple application created to allow you to check your bus arrival timing on your Fitbit devices.
To start using BusSG, you need to:
1. Search and add bus stop station on your phone in order to view the available buses on your Fitbit devices
2. Open the BusSG app on your Fitbit devices.
3. Select the bus stops that you have added to check the arrival time of the buses
Do note that the list of buses shown are the available buses operating at that point of time.
Explanation of some elements in BusSG
- WAB: Wheel chair accessible
- SD: Single deck buses
- DD: Double deck buses
- BD: Bendy buses
- Green timing: Seats available
- Yellow timing: Standing available
- Red timing: Limited Standing
Only for usage in Singapore
BusSG is created by using reference from Bay Area Rapid Transit (BART) - Fitbit SDK example application
Using the following API
https://github.com/cheeaun/arrivelah
Do leave comments if bugs found.
Created during the circuit breaker period.