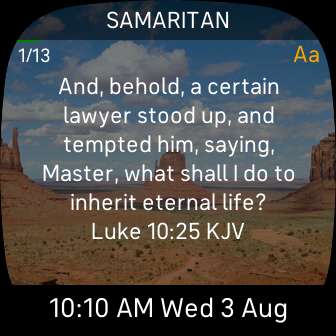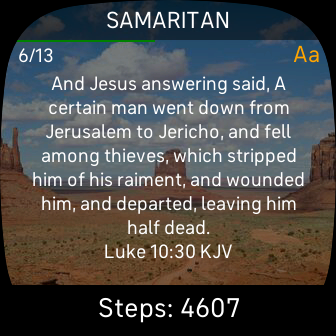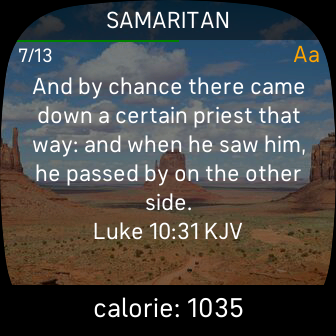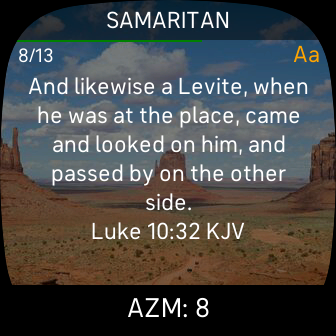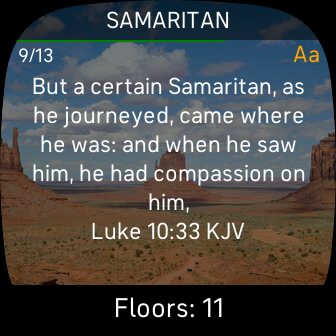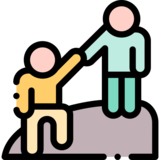 Samaritan
Giovanni Saberon
6 devices
Available to install from
the Fitbit mobile app
Payment required
This app requires payment and is managed by a 3rd-party developer that is not endorsed by Fitbit.
Proceed with caution.
Payment required
This app requires payment and is managed by a 3rd-party developer that is not endorsed by Fitbit.
Proceed with caution.
Description
Read, Meditate, Memorise bible verses that tell the parable of the good Samaritan on your watch.
WATCH VIDEO DEMO
Visit https://gesab001.github.io/fitbit?appName=samaritan&appType=app
ABOUT SAMARITAN
By parable of the good Samaritan the duty of man to his fellow man is forever settled. We are to care for every case of suffering, and to look upon ourselves as God's agents to relieve the needy to the very uttermost of our ability. We are to be laborers together with God. There are some who manifest great affection for their relatives, for their friends and favorites, who yet fail to be kind and considerate to those who need tender sympathy, who need kindness and love.
With earnest hearts, let us inquire, Who is my neighbor? Our neighbors are not merely our associates and special friends, they are not simply those who belong to our church, or who think as we do. Our neighbors are the whole human family. We are to do good to all men, and especially to those who are of the household of faith. We are to give to the world an exhibition of what it means to carry out the law of God.
Go to your neighbors one by one, and come close to them till their hearts are warmed by your unselfish interest and love. Sympathize with them, pray for them, watch for opportunities to do them good, and as you can, gather a few together and open the Word of God to their darkened minds. Keep watching, as he who must render an account for the souls of men, and make the most of the privileges that God gives you of laboring with Him in His moral vineyard.
THIS APP INCLUDES:
- 13 Bible passages from the King James Version Bible focusing on the parable of the good Samaritan.
- Displays current time and date
- Ability to change the font size for readability
- Heart Rate display
- Calories
- Steps
- Distance
- Floors
- Active Zone Minutes (AZM)
HOW TO USE:
- Fitbit OS sets a limit to how many apps can be installed in your watch. If this app doesn't install, maybe you have to delete some apps to make space for this app.
- Tap on the bottom left/right to move between different passages
- Tap on the bottom center to toggle between time, steps, calories, active zone minutes, heart rate, floors, distance display.
- Tap on the "Aa" button to resize font. (Font will become small after reaching the maximum size)
FREE 1 HOUR TRIAL
PRICE: $1.99
HOW TO PURCHASE:
Method 1: To purchase now, visit https://kiezelpay.com/code/?s=45B99D50-74A3-780C-3E13-9377074B11EA&dsu=1662743&p=44752-44356-44347&platform=fitbit
Method 2: After the trial is over, when a code appears on your smart watch device, visit https://kzl.io/code.
TAGS: Samaritan, Parables of Jesus, Neighbor, Neighbour, Bible, Bible Memory Verse
CREDITS: Help icons created by Freepik - Flaticon (https://www.flaticon.com/free-icons/help)
This app requires a payment that is managed by the developer in-app.