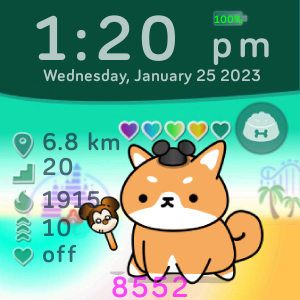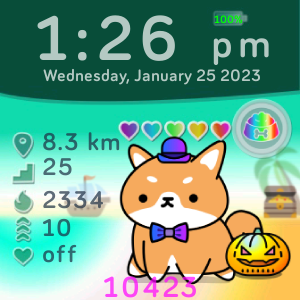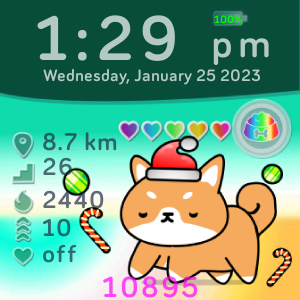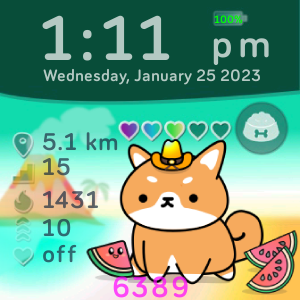 Digital Pet Puppy
Sarah Bass
2 devices
Available to install from
the Fitbit mobile app
Description
----------DESCRIPTION:----------
Digital Pet Puppy is a clockface with animated puppies that you can power up with your steps!
Have fun exercising and power up your digital pet while you reach your goals. This amazing FREE clock has monthly background changes, and three background changes per day. Click on the bottom of the screen to switch between three dogs. Each dog has different animations based on morning, afternoon, and evening. This clock also has an automatic Dark Mode enabled at 10PM-6AM.
All dogs were modeled after real puppies from Orange County, California!
*Mako, a Shiba, has all the sass, gas, and attitude of the true Shiba Inu breed (also known popularly as a 'Doge'). *
*Mr. Crunchy, a blue merle, has two blue eyes is great if you enjoy Pomeranians, Huskies, and Australian Shepherds. *
*Butterball, a rescue dog from Los Angeles, likes to sleep with his legs 'sploot' and looks like a fluffy mix between a Sheltie and a Papillon.*
-------------------Monthly Themes:-----------------------
January: Snow, Penguin, Ice cream
February: Turtle, Tennis Ball, Bear
March: Clovers, Rainbow, Bugs
April: Easter, Tennis Ball, Cherry Blossom
May: Fruit, Cinco De Mayo, Veggies
June: School, Graduate, Study
July: Party, Sun, Picnic
August: Beach, Sand, Island
September: School, Apples, Honey
October: Witch, Wizard, Pumpkin, Treasure
November: Leaves, Cold Weather, Turkey
December: Santa, Yule, Hanukkah
-----------------------STATS-----------------------
Clock: 12 Hour or 24 Hour
Walk: Miles or KM
Fire : Total Daily Calories Burned
Stairs: Total Daily Floors
Bolt: Total Daily Active Minutes
Heart : Heart Rate
Footprints: Total Daily Steps
Food Bowl: Percent% of your goal reached
--------------------------------------------------------
---SETTINGS---
Turn on all setting permissions for best results. Heart Rate does not display "off" as seen in the screenshots for the promo. It displays "--" to fit current guidelines.
---UPDATES ---
This is a new release 2023, and may need updates to fix small issues. Press 'Update' to get the newest version if available. Check out our other 2023 Digital Clockfaces : https://gallery.fitbit.com/developer/850971bc-7265-471f-81f9-608d179f4ddd.
---DOWNLOAD ---
Download time may be slow. Connect to charger with a good wifi connection for best results. Website link for Download Support provided. This is a large file. 1.7 MB