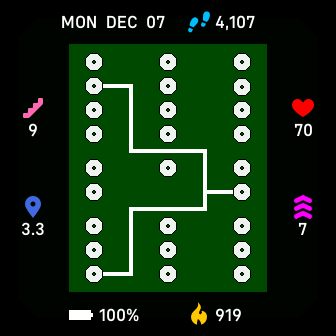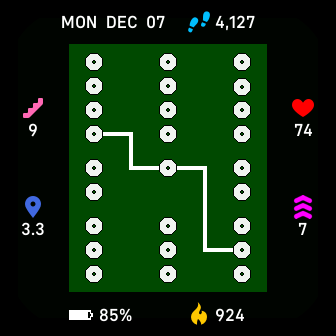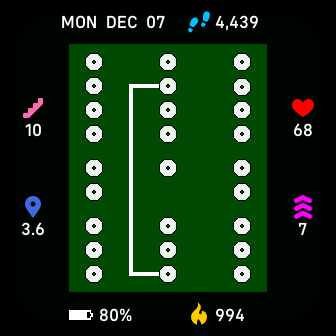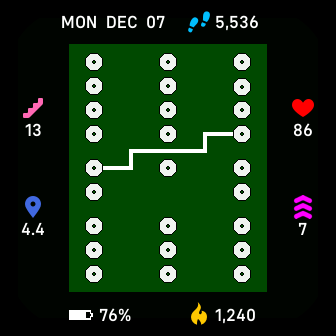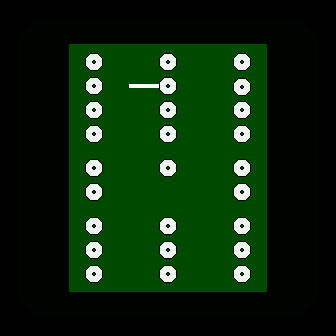 PCB
Nev Rawlins
6 devices
Available to install from
the Fitbit mobile app
Description
Cryptic clock face with time shown on a Printed Circuit Board (PCB). Originally appeared on Pebble watches - here with added information.
Top 12 contact points are hour markers, the middle 5 are 10-minute markers and the bottom 9 are the remaining single minute markers. The lines joining them up give the circuit board appearance, while pointing to the time.
Note on the hour (0 mins) no vertical lines show, just a single horizontal line for the hour.
Configuration option to show only the clock.
Screenshots show: 4:57, 10:26, 5:08, 12:10, 5:00 (last 2 clock only)
This design was created by László Scheffer, from Hungary, and originally appeared on the Tokyoflash Design Studio. It is published with his permission.
The original design can be found here:
https://blog.tokyoflash.com/2012/12/18/pcb-watch-wrist-circuitry/