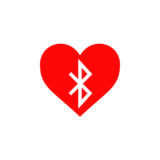 HR Service
Michael Mogenson
2 devices
Available to install from
the Fitbit mobile app
Description
Share heart rate BPM with exercise equipment, such as Peloton and Zwift.
This Fitbit OS app sends heart rate data to a companion Android app. The Android app creates a mock Bluetooth heart rate monitor that can be discovered from stationary bikes, treadmills, and fitness apps.
Download the Android app from the Releases page of the Github repo.
Notes:
- Use the Android app on the phone paired with the Fitbit watch
- Run the Android app and Fitbit OS app at the same time
- Grant the Android app Location permissions (required for Bluetooth, location is not used)
- Fitness apps on the same phone cannot connect to the mock Bluetooth heart rate monitor
- No iPhone companion app is available (contributions welcome on Github)
- No implied warranty or guarantee of functionality
- Not an official product of Fitbit, Google, Peloton, or Zwift