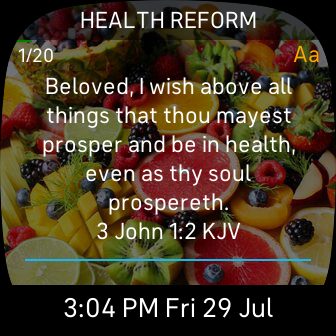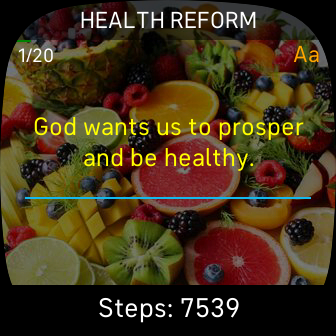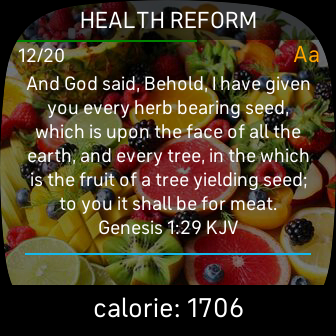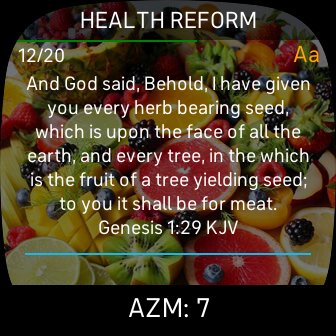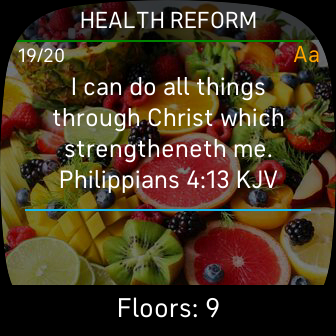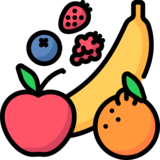 Health Reform
Giovanni Saberon
6 devices
Available to install from
the Fitbit mobile app
Payment required
This app requires payment and is managed by a 3rd-party developer that is not endorsed by Fitbit.
Proceed with caution.
Payment required
This app requires payment and is managed by a 3rd-party developer that is not endorsed by Fitbit.
Proceed with caution.
Description
Read, Meditate, Memorise bible verses about Health Reform as prescribed in the bible on your watch.
WATCH VIDEO DEMO
Visit https://gesab001.github.io/fitbit?appName=health_reform&appType=app
ABOUT HEALTH REFORM
The knowledge that man is to be a temple for God, a habitation for the revealing of His glory, should be the highest incentive to the care and development of our physical powers. Fearfully and wonderfully has the Creator wrought in the human frame, and He bids us make it our study, understand its needs, and act our part in preserving it from harm and defilement.
In order to know what are the best foods, we must study God's original plan for man's diet. He who created man and who understands his needs appointed Adam his food. "Behold," He said, "I have given you every herb yielding seed, . . . and every tree, in which is the fruit of a tree yielding seed; to you it shall be for food." Genesis 1:29, A.R.V. Upon leaving Eden to gain his livelihood by tilling the earth under the curse of sin, man received permission to eat also "the herb of the field." Genesis 3:18.
Grains, fruits, nuts, and vegetables constitute the diet chosen for us by our Creator. These foods, prepared in as simple and natural a manner as possible, are the most healthful and nourishing. They impart a strength, a power of endurance, and a vigor of intellect that are not afforded by a more complex and stimulating diet.
FEATURES:
- 20 bible passages from the King James Version Bible about Health.
- Each passage includes a short explanation in yellow font which appears at the bottom of each passage.
- Displays current time and date
- Ability to change the font size for readability
- Heart Rate display
- Calories
- Steps
- Distance
- Floors
- Active Zone Minutes (AZM)
HOW TO USE:
- Fitbit OS sets a limit to how many apps can be installed in your watch. If this app doesn't install, maybe you have to delete some apps to make space for this app.
- Tap on the bottom left/right to move between different passages
- Scroll down to the bottom to read a short explanation of the passage
- Tap on the bottom center to toggle between time, steps, calories, active zone minutes, heart rate, floors, distance display.
- Tap on the 'Aa' button to resize font. (Font will become small after reaching the maximum size)
FREE 1 HOUR TRIAL
PRICE: $1.99
HOW TO PURCHASE:
Method 1: To purchase now, visit https://kiezelpay.com/code/?s=45B99D50-74A3-780C-3E13-9377074B11EA&dsu=1662743&p=44752-44330-45493-44246&platform=fitbit
Method 2: After the trial is over, when a code appears on your smart watch device, visit https://kzl.io/code.
TAGS: Health Reform, God's original diet, Bible, Bible Memory Verse
CREDITS: Fruit icon - https://www.flaticon.com/free-icons/fruits
This app requires a payment that is managed by the developer in-app.