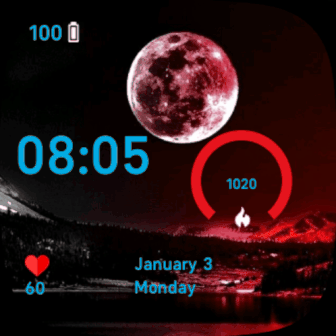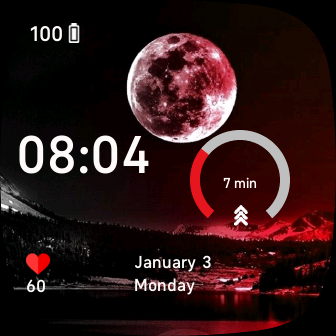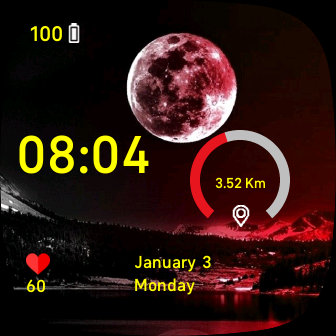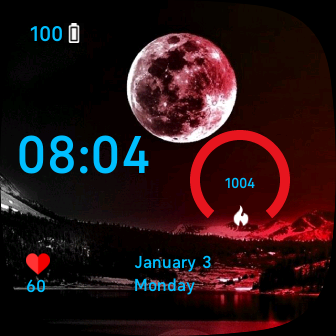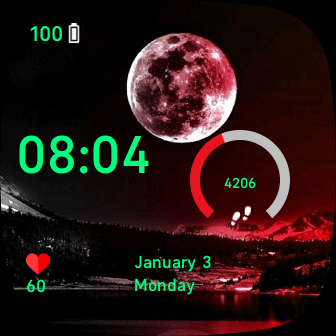 Red Moon
Julia Clock
5 devices
Available to install from
the Fitbit mobile app
This clock face requires a payment that is managed by the developer in-app.
Description
😲 Download this futuristic clockface about connection concept for a one time payment of $1.29! ⚛️⚛️⚛️⚛️
🎁 Save over 90% by purchasing this clock face with a bundle!!! Visit our shop https://awesomeclockfaces.com
🎁 New faces are added each week.
😲 Wanna see more??? click here https://cutt.ly/Julia-Clock-Collection
If you like it please rate us 5⭐
What features are included in the Watch Face:
🕓 12h / 24h format support
📅 Date & Day
💕 Heart-rate monitoring
🔥 Calories counter
👟 Steps counter
🏃 Active Zone Minutes
🔹 Available for Versa 3,Versa 2, Versa, Versa Lite and Sense
🔹 12h and 24h format support
🔹 Easy to install
🔹 Small file size
🔋 battery life left until next recharge
🔹 Fast Support
☑️ Theme settings: chose a combination of from over 30 colors for text and the desired stat to be displayed - number of steps, burned calories, active minutes, distance (miles or km based on user settings), heart rate, battery level
☑️ You can show or hide if you want heart, battery, date, step, calories, active zone minutes.
👉 For reinstallation, an already purchased clock face, visit: https://bit.ly/3wLwHWd
🌍 Supported Language:
US / RO / DE / ES / FR / IT / NL / SE / RU / PL / CZ
KR / JP / BR / ID / CN (simplified) / CN (traditional)
.
This watch face requires a payment of $1.29 plus taxes via k-pay (if required).
To buy this watch face, you need to:
1. Go to http://kzl.io/code.
2. Add the code you see on your watch and follow the steps presented on k-pay website.
Already purchased ? Go here: https://kzl.io/unlock
Tags: Summer, spring, seasons, flowers, floral, leafs, leaves, yellow, orange, nature, plants, natural, blossom, trees, brown, black, garden, beautiful, girls, woman, women, digital, forest, petals, fruits, woods, roots, jungle, animations, animated, 2022, autumn, amazon, romantic, love, wild
This clock face requires a payment that is managed by the developer in-app.