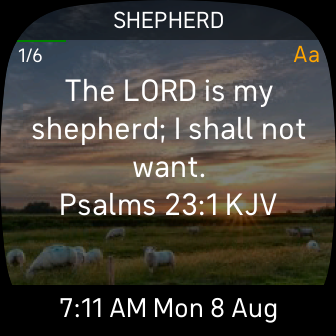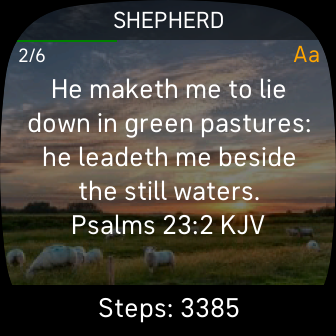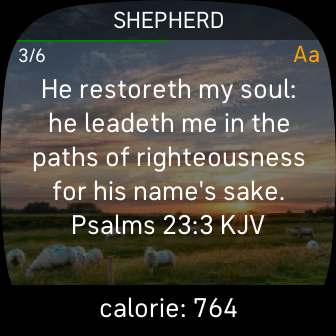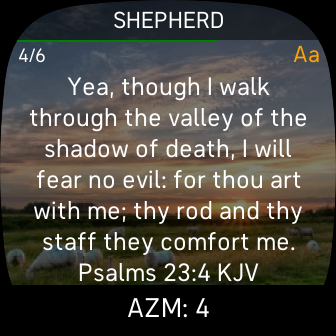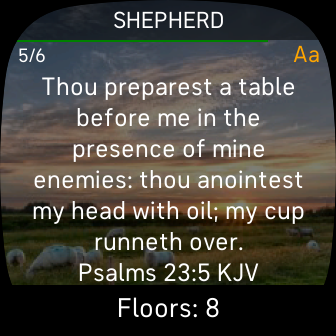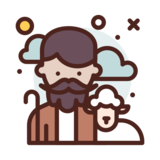 Shepherd
Giovanni Saberon
6 devices
Available to install from
the Fitbit mobile app
This app requires a payment that is managed by the developer in-app.
Description
Read, Meditate, Memorise bible verses about the Lord is my Shepherd on your watch.
ABOUT THE LORD IS MY SHEPHERD
Psalms 23 is a song written by King David. As a shepherd boy, David though of God as a shepherd. Under God's care, we will never be in need.
Jesus is the good Shepherd. His followers are the sheep of His pasture. A shepherd is always with his flock to defend them, to keep them from the wolves, to hunt up the lost sheep and carry them back to the fold, to lead them beside green pastures and beside living waters.
FEATURES:
- 6 Bible passages from the King James Version Bible about The Lord is my Shepherd.
- Displays current time and date
- Ability to change the font size for readability
- Heart Rate display
- Calories
- Steps
- Distance
- Floors
- Active Zone Minutes (AZM)
HOW TO USE:
- Fitbit OS sets a limit to how many apps can be installed in your watch. If this app doesn't install, maybe you have to delete some apps to make space for this app.
- Tap on the bottom left/right to move between different passages
- Scroll down to the bottom to read a short explanation of the passage
- Tap on the bottom center to toggle between time, steps, calories, active zone minutes, heart rate, floors, distance display.
- Tap on the 'Aa' button to resize font. (Font will become small after reaching the maximum size)
FREE 1 HOUR TRIAL
PRICE: $1.99
TAGS: The Lord Is My Shepherd, Psalms 23, King David, Bible Memory Verse
CREDITS: Shepherd icons created by Darius Dan - Flaticon (https://www.flaticon.com/free-icons/shepherd)
This app requires a payment that is managed by the developer in-app.