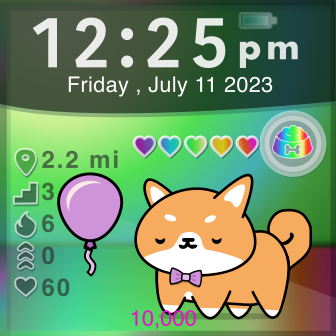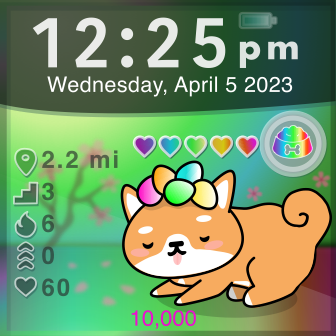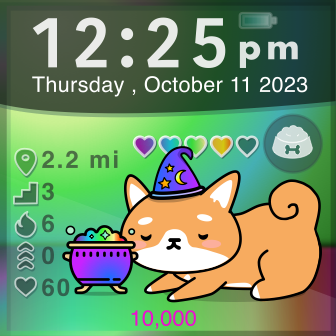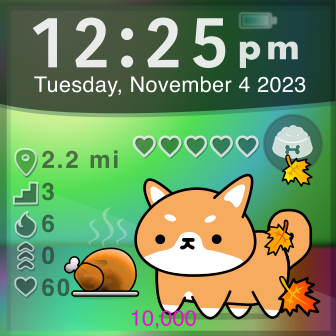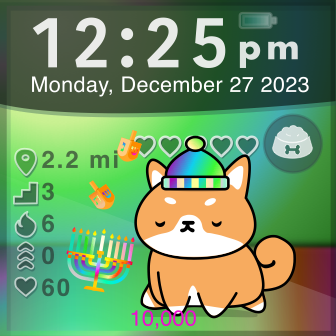 Virtual Pet Shiba
Sarah Bass
2 devices
Available to install from
the Fitbit mobile app
Description
----------DESCRIPTION:----------
Virtual Pet Shiba is a cute , animated dog on your watch that you can power up with your steps. Modeled after a real Shiba, this virtual dog has all the sass, gas, and attitude of the famous Japanese Breed known as a "doge." Mako, a real Shiba puppy from California, was used as the inspiration and model for the design.
Have fun exercising as this little dog gains hearts while you reach your goals. The virtual dog has three modes: sitting, walking, and sleeping. Based on the number of hearts you earn, the dog will change what it does and will have different moods.
Check out our other Virtual Dog Clockfaces : https://gallery.fitbit.com/developer/850971bc-7265-471f-81f9-608d179f4ddd.
~*-------------------Monthly Themes:-----------------------*~
January: Snow, Penguin, Ice cream
February: Hearts, Tennis Ball
March: Clovers, Rainbow, Bugs
April: Easter, Tennis Ball, Cherry Blossom
May: Garden, Cinco De Mayo, Hearts
June: School, Graduate, Study
July: Party, Sun, Cupcake
August: Beach, Sand, Island
September: School, Apples, Honey
October: Witch, Wizard, Pumpkin
November: Leaves, Cold Weather, Turkey
December: Santa, Yule, Hanukkah
__________________STATS_________________
Clock: 12 Hour or 24 Hour
Walk: Miles or KM
Fire : Total Daily Calories Burned
Stairs: Total Daily Floors
Bolt: Total Daily Active Minutes
Heart : Heart Rate
Footprints: Total Daily Steps
Food Bowl: Percent% of your goal reached
_______________________________________
Settings:
Allow all permissions for best results.
Download:
Download time may be slow. Connect to charger with a good wifi connection for best results. Website link for Download Support provided.
Optional:
This clock is free, but you can donate to Mako's Paypal Tip Jar to buy him a treat!
--- Tip Jar --
Email virtualstarwatch@gmail.com, and I will send a QR code for my Tip Jar.