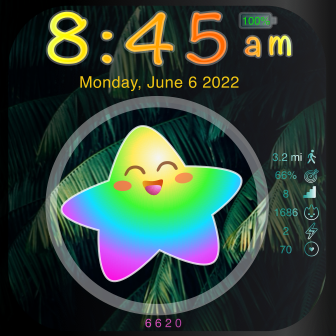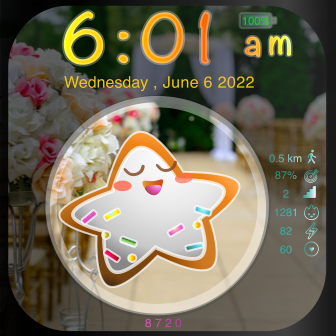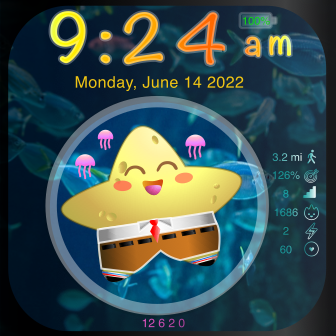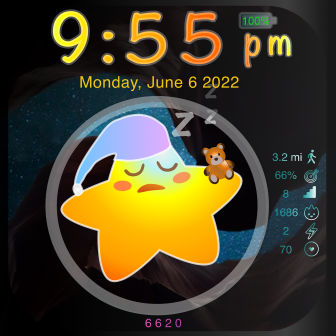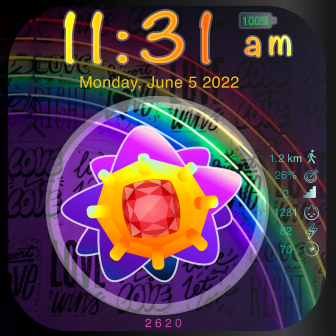 Summer Star Pet
Sarah Bass
1 device
Available to install from
the Fitbit mobile app
Description
Updated for Versa 3, this clock is filled with cute interactions, daily changing pictures, and fun surprises. This is a smaller package size of Virtual Pet Star that is 2 MB and gives you a preview of the summer season features.
----------DESCRIPTION:----------
A cute , animated star on your watch changes its background every day of the season!
Have fun exercising as this little star swirls around on your watch, and interacts with you all day. The star brushes its teeth, eats healthy food, works out, and goes to bed with a little teddy bear based on preset times. The star also plays an instrument, plays soccer, sun bathes, reads, goes to work, calls friends, watches movies, and more. He may fall asleep if you are not in movement, but will wake right back up and start floating again in a minute. Floating all day is tiring work.
This clock also has holiday modes automatically set for Cinco de Mayo, Mother's Day, 4th of July (for USA), Back to School, Dragon Boat Festival, and more . From a library of over 40 backgrounds and 10 characters, your summer season should be full of cute and fun surprises.
When you reach your goal, the star will change form selecting randomly from a library of 10 summer characters(silly cartoon , beach, and colorful stars).
_________STATS_____________
Walk: Distance in Miles or KM
Target : % of your goal reached
Fire : Total Daily Calories Burned
Stairs: Total Daily Floors
Bolt: Total Daily Active Minutes
Heart : Heart Rate (Click Star to Start)
Footprints: Total Daily Steps
___________________________
Settings: If set active, goal, and calorie permissions are not turned on, it will print "Nan", "Null", or "0". Heart Rate activated when you click Star, click again to turn off to save battery. Heart monitor turns on when it senses change.
Large downloads can be slow on poor connections with wifi or your device. For best results, attach your watch to your charger while you download. To ensure a complete download, please sync your paired devices and check connection before attempting to download. For best results, download by taking the watch off, placing it near a wireless router and the paired device , and allow several minutes for complete download. Watch the red bar on your gallery app view(under select), and do not disconnect until it is fully downloaded.