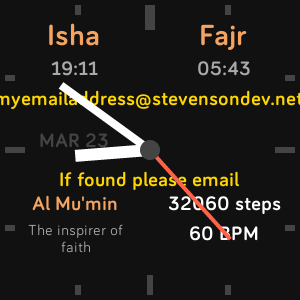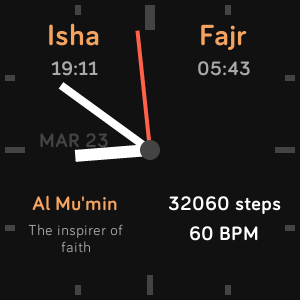 Muslim Watchface
Michael Stevenson
6 devices
Available to install from
the Fitbit mobile app
Description
NOTE: DOUBLE TAP FACE TO PULL NEW PRAYER TIMES
Analog watch face built for Muslims on the go.
The salat timings are fetched every four hours from the internet. If your phone detects a significant location change it will pull updates timings to account for changes.
The bottom left portion of the watch face displays a random name from the Asma Al Husna (99 Names of God). It updates every five minutes to a new name.
The bottom right portion of the watch shows your current step count and heart rate.
* Step count is updated every 3 seconds
* Heart rate is updated every 15 seconds
Also contains ability to add custom text on the face of the watch.
The Asma Al Husna and Salat Times are pulled from the APIs at https://aladhan.com/