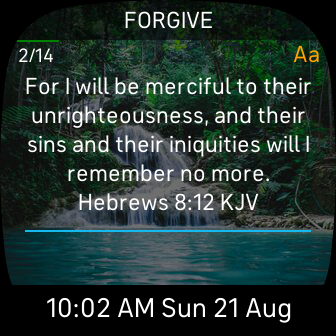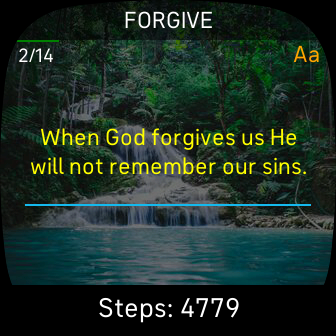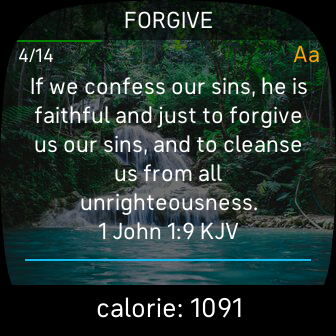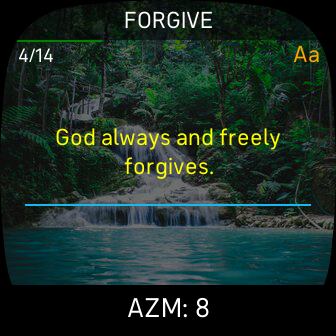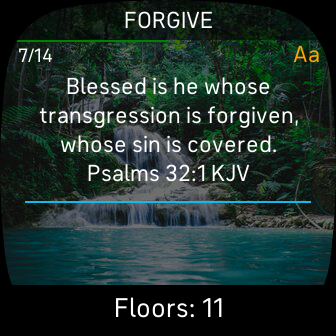 Forgive
Giovanni Saberon
6 devices
Available to install from
the Fitbit mobile app
Payment required
This app requires payment and is managed by a 3rd-party developer that is not endorsed by Fitbit.
Proceed with caution.
Payment required
This app requires payment and is managed by a 3rd-party developer that is not endorsed by Fitbit.
Proceed with caution.
Description
Meditate on the forgiveness of God on your watch.
WATCH VIDEO DEMO
Visit https://gesab001.github.io/fitbit?appName=forgive&appType=app
ABOUT FORGIVE
It is impossible for us, of ourselves, to escape from the pit of sin in which we are sunken. Our hearts are evil, and we cannot change them. "Who can bring a clean thing out of an unclean? not one." "The carnal mind is enmity against God: for it is not subject to the law of God, neither indeed can be." Job 14:4; Romans 8:7. Education, culture, the exercise of the will, human effort, all have their proper sphere, but here they are powerless. They may produce an outward correctness of behavior, but they cannot change the heart; they cannot purify the springs of life. There must be a power working from within, a new life from above, before men can be changed from sin to holiness. That power is Christ. His grace alone can quicken the lifeless faculties of the soul, and attract it to God, to holiness.
FEATURES:
- 14 important bible passages from the King James Version Bible focusing on God's forgiveness.
- Each passage includes a short explanation
- Displays current time and date
- Ability to change the font size for readability
- Heart Rate display
- Calories
- Steps
- Distance
- Floors
- Active Zone Minutes (AZM)
HOW TO USE:
- Fitbit OS sets a limit to how many apps can be installed in your watch. If this app doesn't install, maybe you have to delete some apps to make space for this app.
- Tap on the bottom left/right to move between different passages
- Scroll down to the bottom to read a short explanation of the passage
- Tap on the bottom center to toggle between time, steps, calories, active zone minutes, heart rate, floors, distance display.
- Tap on the 'Aa' button to resize font. (Font will become small after reaching the maximum size)
FREE 1 HOUR TRIAL
PRICE: $1.99
HOW TO PURCHASE:
Method 1: To purchase now, visit https://kiezelpay.com/code/?s=45B99D50-74A3-780C-3E13-9377074B11EA&dsu=1662743&p=44752-44272-45493-44027&platform=fitbit
Method 2: After the trial is over, when a code appears on your smart watch device, visit https://kzl.io/code.
TAGS: Forgive, Bible, Memorise This, Bible Memory Verse, Forgiveness, God
CREDITS: Forgiveness icons created by Flat Icons - Flaticon (https://www.flaticon.com/free-icons/forgiveness)
This app requires a payment that is managed by the developer in-app.