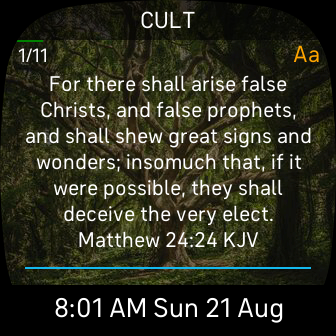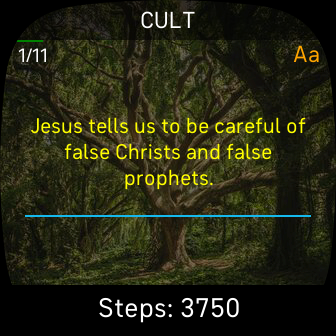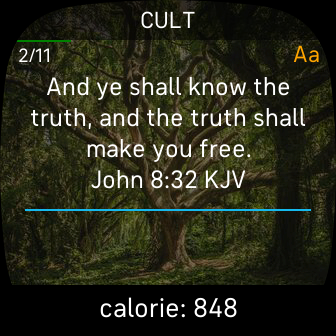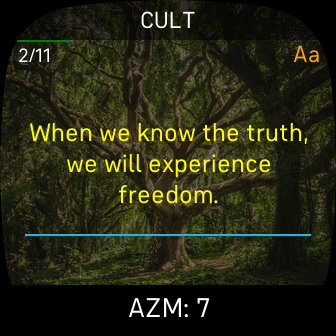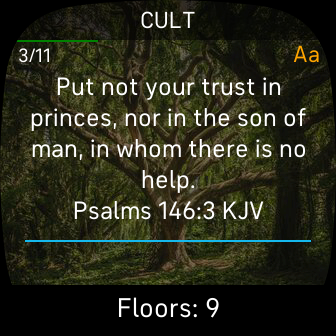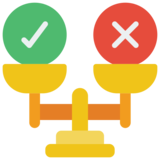 Cult
Giovanni Saberon
6 devices
Available to install from
the Fitbit mobile app
Payment required
This app requires payment and is managed by a 3rd-party developer that is not endorsed by Fitbit.
Proceed with caution.
Payment required
This app requires payment and is managed by a 3rd-party developer that is not endorsed by Fitbit.
Proceed with caution.
Description
Read, Meditate, Memorise bible verses about cults on your watch.
WATCH VIDEO DEMO
Visit https://gesab001.github.io/fitbit?appName=cult&appType=app
ABOUT CULT
The position that it is of no consequence what men believe is one of Satan's most successful deceptions. He knows that the truth, received in the love of it, sanctifies the soul of the receiver; therefore he is constantly seeking to substitute false theories, fables, another gospel. From the beginning the servants of God have contended against false teachers, not merely as vicious men, but as inculcators of falsehoods that were fatal to the soul. Elijah, Jeremiah, Paul, firmly and fearlessly opposed those who were turning men from the word of God. That liberality which regards a correct religious faith as unimportant found no favor with these holy defenders of the truth.
The vague and fanciful interpretations of Scripture, and the many conflicting theories concerning religious faith, that are found in the Christian world are the work of our great adversary to confuse minds so that they shall not discern the truth. And the discord and division which exist among the churches of Christendom are in a great measure due to the prevailing custom of wresting the Scriptures to support a favorite theory. Instead of carefully studying God's word with humility of heart to obtain a knowledge of His will, many seek only to discover something odd or original.
FEATURES:
- 12 Bible passages from the King James Version Bible about Cult.
- Each passage includes a short explanation in yellow font which appears at the bottom of each passage.
- Displays current time and date
- Ability to change the font size for readability
- Heart Rate display
- Calories
- Steps
- Distance
- Floors
- Active Zone Minutes (AZM)
HOW TO USE:
- Fitbit OS sets a limit to how many apps can be installed in your watch. If this app doesn't install, maybe you have to delete some apps to make space for this app.
- Tap on the bottom left/right to move between different passages
- Scroll down to the bottom to read a short explanation of the passage
- Tap on the bottom center to toggle between time, steps, calories, active zone minutes, heart rate, floors, distance display.
- Tap on the 'Aa' button to resize font. (Font will become small after reaching the maximum size)
FREE 1 HOUR TRIAL
PRICE: $1.99
HOW TO PURCHASE:
Method 1: To purchase now, visit https://kiezelpay.com/code/?s=45B99D50-74A3-780C-3E13-9377074B11EA&dsu=1662743&p=44752-44601-44424&platform=fitbit
Method 2: After the trial is over, when a code appears on your smart watch device, visit https://kzl.io/code.
TAGS: Cult, False Teachers, False Prophets, Bible Memory Verse
CREDITS: Truth icons created by Smashicons - Flaticon (https://www.flaticon.com/free-icons/truth)
This app requires a payment that is managed by the developer in-app.