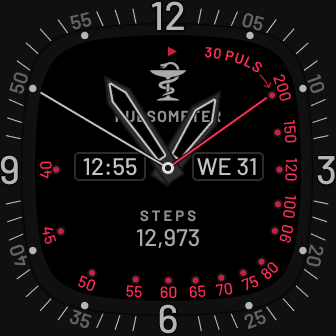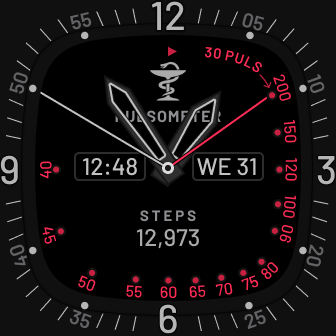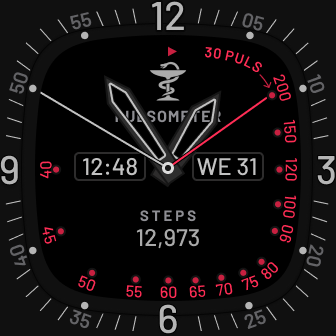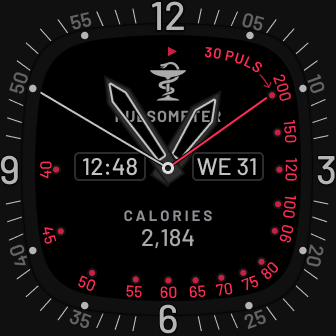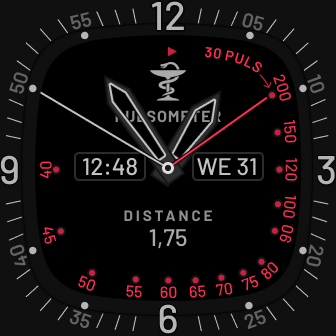 Analog
Watch Brothers
5 devices
Available to install from
the Fitbit mobile app
This clock face requires a payment that is managed by the developer in-app.
Description
⏱️ Analog Pulsometer Clock face ❤️
Pulsometers (or pulsographs) on watch dials helped users (mainly doctors and medical staff) to measure a patient's pulse as far back as a hundred years ago.
You can toggle the scale and the pulsometer's hand On and Off by tapping on the top of the screen.
You can also cycle the stats( steps, zone mins, calories, distance and heart rate) by tapping on the bottom of the screen.
On the left side of the screen you will find the current time in digital format, while on the right side you can observe the day of the week and the day of the month.
🚑How does it work?
step 1 - find the person's pulse (the person that you want to check the pulse)
step 2 (considering that the Pulsometer scale is turned OFF) tap on the top of the screen - the red dial hand will position itself to 12 hour. Starting at that point (the red flag marker) you will count 30 "patient's" pulsations. When you reach 30 beats, the value indicated on the red scale will show the patient's BPM.
😍 Free Trial! If you love it Unlock it for just $4.99 👈
⌚ 12h and 24h format support
👇Tap on the screen to cycle:
Steps | Zone Minutes | Calories | Distance
& Heart Rate
You can unlock this face for a simple, one-time payment of only $4.99, by simply following the link (https://kzl.io/code) and entering the code displayed on your watch!
👉 Available for Versa, Versa 2, Versa Lite, Versa 3 & Sense
🥳 check out our gallery:
https://gallery.fitbit.com/developer/0af029cd-8511-4237-8db9-742d44ef87eb
🎁Get the Watch Brothers Bundle for 14.99$:
One time purchase, the bundle includes all of our watch designs.
Buy NOW and get FREE access to future releases!
https://kiezelpay.com/bundle/?bundle=2809&check=DFE941E3-B1A3-63C8-77A4-FB2BFB8B74FF&platform=fitbit
💜 Follow us on Instagram @watchbrothers4fitbit and Twitter @WFitbit for new watch faces every week!
https://linktr.ee/WatchBrothersFitbit
Tags: Pulsometer, Medical, Analog, AZM, Black, Stats, 2021, Pulsograph, Seconds, Black watch, Doctor, Nurse, Digital, Classic, Branded
This clock face requires a payment that is managed by the developer in-app.