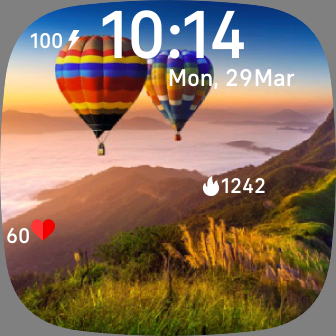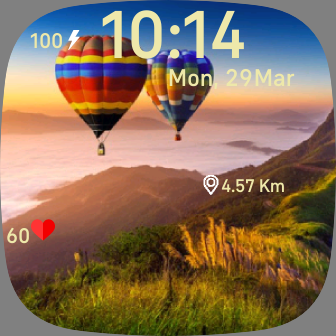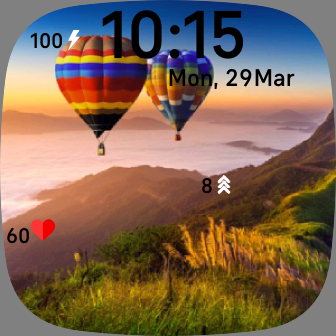 Landscap With Hot Air Balloons
Awesome Clock Faces
5 devices
Available to install from
the Fitbit mobile app
This clock face requires a payment that is managed by the developer in-app.
Description
🤩 For all our creations: http://bit.ly/Awesome-Clock-Faces 🤩
👍One time purchase for only 1.39$
🎁🎁 SAVE 90% by purchasing with a bundle: https://awesomeclockfaces.com
❤️ Please rate us if you enjoy it! ❤️
⌚ Watch Face contains:
☑️ Time format 12/24 hours
💪 Easy installation
✅ Battery level indicator
💓 Heart rate monitor
☑️ Free and reliable Support
☑️ The Option to change the color (over 30 colors) from setting of Date, Time, Distance Km or Miles, etc
☑️ Theme settings: chose a combination of from over 30 colors for text and the desired stat to be displayed - number of steps, burned calories, active minutes, distance (miles or km based on user settings), heart rate, battery level
☑️ Battery Label will turn red when the charge level is <= 20
☑️ You can show or hide if you want heart, battery, date, step, calories, active zone minutes.
🔆 Available for Versa, Versa Lite, Versa 2, Versa 3, Sense
☟ How to use K-pay for purchase:
1. Go to http://kzl.io/code
2. Paste the code displayed on your watch
3. Follow the steps presented on k-pay and perform the purchase
👍 After confirmation, the watch will unlock the purchased face.
👉 For reinstallation, an already purchased clock face, visit: http://bit.ly/3r8HN3W
Tags: autumn, fall, season, flower, yellow, green, blue, pink, black, colors, intense, petals, flowers, elegant, stylish, frame, white, gold, daisy, leaf, pink, nice, floral, orchid, circle, analog, digital, Flower, romantic, nature, elegant, gray, beauty, art, butterfly, rose, stylish, black, white, floral, watercolor, Rose, roses, top, iris, orchid, anemone, violet, Christmas, sunflower, orchid, gerbera, daisy, lilie, tulip, love, circle, colors, green, spring, summer, mother, glitter, passion, bouquet, Valentine, frame, bright, Floral, rosa, 2020, 2021, marco, brillante, Blume, Rosa, bloom, spring, nature, cloros, birds
This clock face requires a payment that is managed by the developer in-app.