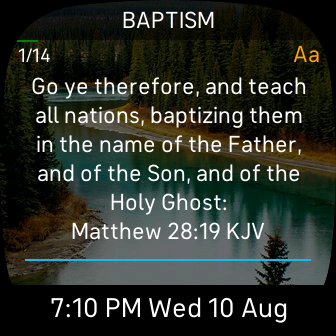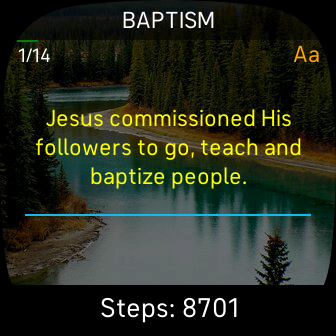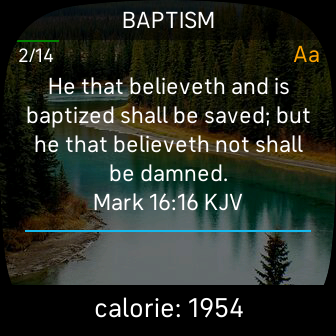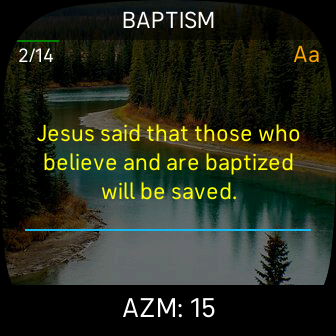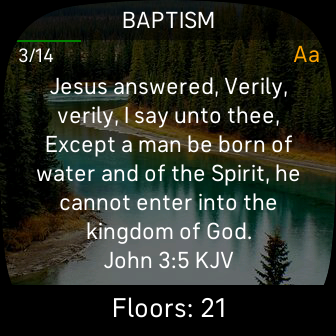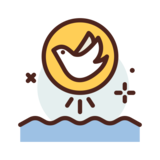 Baptism
Giovanni Saberon
6 devices
Available to install from
the Fitbit mobile app
Payment required
This app requires payment and is managed by a 3rd-party developer that is not endorsed by Fitbit.
Proceed with caution.
Payment required
This app requires payment and is managed by a 3rd-party developer that is not endorsed by Fitbit.
Proceed with caution.
Description
Read, Meditate, Memorise bible verses about Baptism on your watch.
WATCH VIDEO DEMO
Visit https://gesab001.github.io/fitbit?appName=baptism&appType=app
ABOUT BAPTISM
The repentant believer, who takes the steps required in conversion, commemorates in his baptism the death, burial, and resurrection of Christ. He goes down into the water in the likeness of Christ's death and burial, and he is raised out of the water in the likeness of His resurrection--not to take up the old life of sin, but to live a new life in Christ Jesus.
No matter how faultless may have been your lives, as sinners you have steps to take. You are required to repent, believe, and be baptized. Christ was wholly righteous; yet He, the Saviour of the world, gave man an example by Himself taking the steps which He requires the sinner to take to become a child of God, and heir of heaven.
It is the grace of Christ that gives life to the soul. Apart from Christ, baptism, like any other service, is a worthless form.
FEATURES:
- 15 Bible passages from the King James Version Bible about Baptism.
- Each passage includes a short explanation in yellow font which appears at the bottom of each passage.
- Displays current time and date
- Ability to change the font size for readability
- Heart Rate display
- Calories
- Steps
- Distance
- Floors
- Active Zone Minutes (AZM)
HOW TO USE:
- Fitbit OS sets a limit to how many apps can be installed in your watch. If this app doesn't install, maybe you have to delete some apps to make space for this app.
- Tap on the bottom left/right to move between different passages
- Scroll down to the bottom to read a short explanation of the passage
- Tap on the bottom center to toggle between time, steps, calories, active zone minutes, heart rate, floors, distance display.
- Tap on the 'Aa' button to resize font. (Font will become small after reaching the maximum size)
FREE 1 HOUR TRIAL
PRICE: $1.99
HOW TO PURCHASE:
Method 1: To purchase now, visit https://kiezelpay.com/code/?s=45B99D50-74A3-780C-3E13-9377074B11EA&dsu=1662743&p=44752-44791-44416&platform=fitbit
Method 2: After the trial is over, when a code appears on your smart watch device, visit https://kzl.io/code.
TAGS: Baptism, Rebirth, Born Again, Bible Memory Verse
CREDITS: Baptism icons created by Darius Dan - Flaticon (https://www.flaticon.com/free-icons/baptism)
This app requires a payment that is managed by the developer in-app.