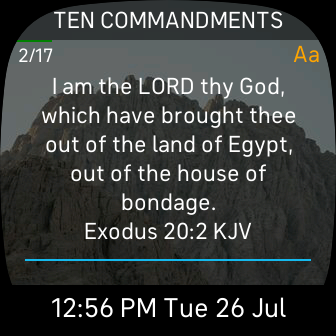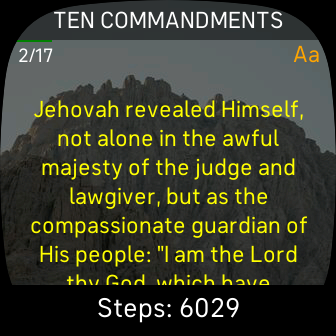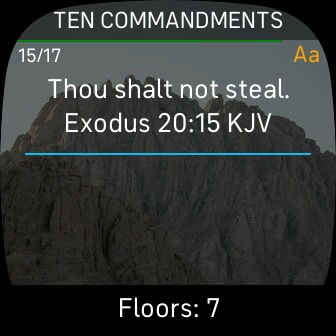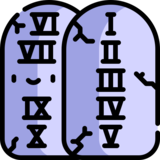 Ten Commandments
Giovanni Saberon
6 devices
Available to install from
the Fitbit mobile app
Payment required
This app requires payment and is managed by a 3rd-party developer that is not endorsed by Fitbit.
Proceed with caution.
Payment required
This app requires payment and is managed by a 3rd-party developer that is not endorsed by Fitbit.
Proceed with caution.
Description
Read, Meditate, Memorise Bible verses about the Ten Commandments on your watch.
WATCH VIDEO DEMO
Visit https://gesab001.github.io/fitbit?appName=ten_commandments&appType=app
ABOUT THE TEN COMMANDMENTS
The Ten Commandments was not spoken at Mount Sinai exclusively for the benefit of the Hebrews. God honored them by making them the guardians and keepers of His law, but it was to be held as a sacred trust for the whole world. The precepts of the Decalogue are adapted to all mankind, and they were given for the instruction and government of all. Ten precepts, brief, comprehensive, and authoritative, cover the duty of man to God and to his fellow man; and all based upon the great fundamental principle of love. "Thou shalt love the Lord thy God with all thy heart, and with all thy soul, and with all thy strength, and with all thy mind; and thy neighbor as thyself." Luke 10:27. See also Deuteronomy 6:4, 5; Leviticus 19:18. In the Ten Commandments these principles are carried out in detail, and made applicable to the condition and circumstances of man.
FEATURES:
- 17 Bible passages from the King James Version Bible about the Ten Commandments.
- Each passage includes a short explanation in yellow font which appears at the bottom of each passage.
- Displays current time and date
- Ability to change the font size for readability
- Heart Rate display
- Calories
- Steps
- Distance
- Floors
- Active Zone Minutes (AZM)
HOW TO USE:
- Fitbit OS sets a limit to how many apps can be installed in your watch. If this app doesn't install, maybe you have to delete some apps to make space for this app.
- Tap on the bottom left/right to move between different passages
- Scroll down to the bottom to read a short explanation of the passage
- Tap on the bottom center to toggle between time, steps, calories, active zone minutes, heart rate, floors, distance display.
- Tap on the 'Aa' button to resize font. (Font will become small after reaching the maximum size)
FREE 1 HOUR TRIAL
PRICE: $1.99
HOW TO PURCHASE:
Method 1: To purchase now, visit https://kiezelpay.com/code/?s=45B99D50-74A3-780C-3E13-9377074B11EA&dsu=1662743&p=44752-44274-45493-44205&platform=fitbit
Method 2: After the trial is over, when a code appears on your smart watch device, visit https://kzl.io/code.
TAGS: Ten Commandments, Law Of God, Bible Memory Verse
CREDITS: Ten commandments icons created by Freepik - Flaticon (https://www.flaticon.com/free-icons/ten-commandments)
This app requires a payment that is managed by the developer in-app.