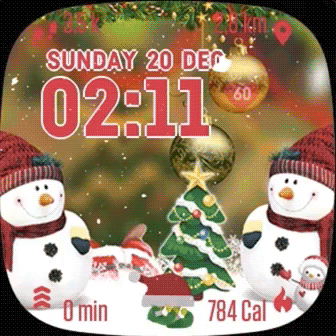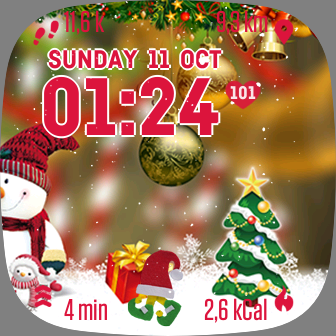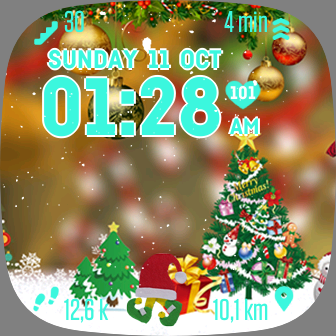 Walking Santa
MagicClockFaces
6 devices
Available to install from
the Fitbit mobile app
This clock face requires a payment that is managed by the developer in-app.
Description
🍀 Save over 90% by choosing one of our bundle, tap here: https://cutt.ly/OnlyMagicClockFaces
👉 Follow us on Facebook https://www.facebook.com/magicclockfaces and get ready for each day offers 🍀
Winter, Christmas, New Year EVE, Santa Claus they all spread that joy feeling and happiness when they come close, that this one to be more close to you then ever and feel the joy and happiness that this kind of holidays spread. Activities from the top left are sorted based on the percent completion.
Clockface only costs 1.99$. (Lifetime purchase).
Payment is possible via Paypal or Credit Card.
Background Photos from https://pngtree.com/free-backgrounds
tags: winter xmas tree decor handmade love merry christmas santa winter time gift holidays christmas is coming navidad decorations santa claus snow etsy like natale noel art family santa merry christmas decorations magic snow spirit mood lights snow man natal home alone countdown happyholiday ho ho ho december home decor holidays beautiful, pretty, pink, cute , adorable, glossy, fashion, love, spring, summer, winter, autumn, nature, flowers, elegant, romantic, floral, passion, red, blue, pink, colors, traditional, flowerpower, garden, orchid, daisies, gerbera, lilies, roses, sunflower, tulips, watercolor, flowers, flower, leaves, holiday, vacation, island, sea, ocean, palm, coconut, vibrant, circle, future, heart, love, loving, girlfriend, boyfriend, weeding loveWINTER, Jolly, Snow Man, Frozen, Cold, Freezing,Christmas Tree, Santa Klaus, Dear Horns, Red Shoes, Red Suit, Christmas Sleigh, Chimney, Elf, Toys, Kids, Happy Children, Gifts, Christmas Morning, Winter Chill, Snow Globes, Snow Stars. Snow Angels, Snow Balls, Play, Hot Drinks,Ginger Bread Man, Sweets, Candy, CHRISTMAS, XMAS.
This clock face requires a payment that is managed by the developer in-app.