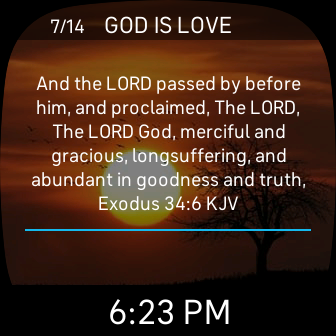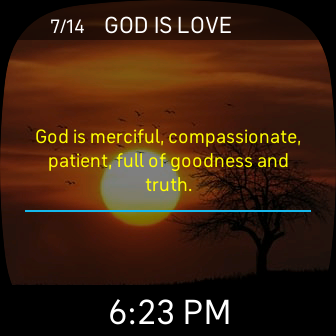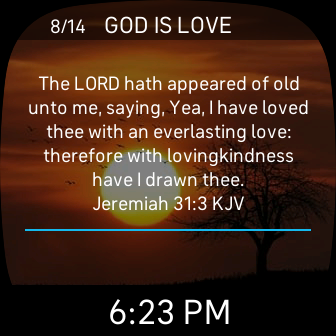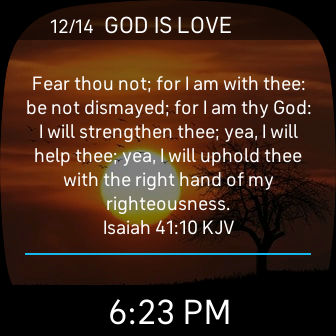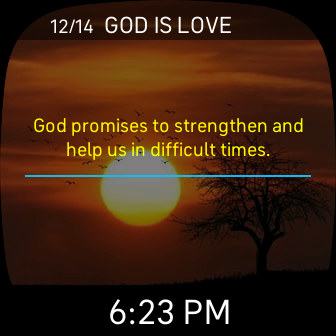 God is love
Giovanni Saberon
6 devices
Available to install from
the Fitbit mobile app
This app requires a payment that is managed by the developer in-app.
Description
Memorise bible verses about God's character on your watch.
Why is it important to understand God's true character?
God desires men and women to awake to a sense of His great mercy and loving-kindness. Every blessing we receive comes from Him. The Governor of the universe, He takes cognizance of the words and actions of human beings. He knows whether His children are deserving of praise or of condemnation. Each human being will be rewarded or punished according to his works. Retribution must come upon those who disregard the laws which God has made. Those who are loyal and obedient will be rewarded with the richest blessings. Those who are disloyal and presumptuous, who dishonor the laws of God's kingdom, refusing to repent, will surely be punished with death.ST November 30, 1904, Art. A, par. 4
It is Satan's studied plan to keep God out of men's thoughts, and in carrying out this plan, he has great success. He is constantly bringing forward plans that keep their minds absorbed in pleasure and money-making. The minds of the great majority of men are so taken up with the things of time, with worldly interests, that the things of eternity find no place in their lives. Irrespective of the warnings in the Word of God, they show a most surprising indifference to the laws of His kingdom.ST November 30, 1904, Art. A, par. 5
Selfishness, covetousness, and fraud bear sway in the world. There are thousands and millions of people who know nothing of their true relations to God, nothing of the laws that He has made, nothing of the consequence of disobedience. Many are not ignorant of the facts, but they do not apply these facts to their own case. All know that they must die, but they do not ask themselves the question, "What shall be the future of my soul?" They know that there is a judgment to come, but their minds are so darkened that they are utterly unconcerned regarding what this judgment will bring to them. They have no realization of the sinfulness of sin. They follow a course which the Lord of heaven has declared must end in eternal death.ST November 30, 1904, Art. A, par. 6
God's character is revealed in the precepts of His law. This is the reason why Satan wishes this law to be made of none effect. But notwithstanding all his efforts, the law stands forth holy and unchanged. It is a transcript of God's character. It can not be impeached or altered.
FEATURES:
- 14 important bible passages from the King James Version Bible that reveal God's character.
- Displays current time and date
- Ability to change the font size for readability
HOW TO USE:
- Tap on the bottom left/right to move between different passages
- Scroll down to read a short explanation of the passage
- Tap on the time/date to toggle between time and date display
- Tap on the bible verse to make the text bigger. (The font size will return to default size after reaching maximum size)
PRICE: $1.99
TAGS: Bible, Memorise This
This app requires a payment that is managed by the developer in-app.