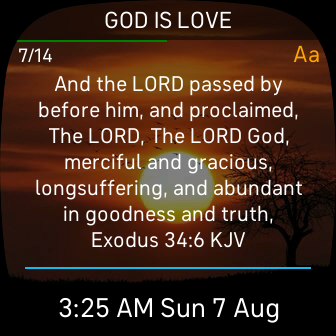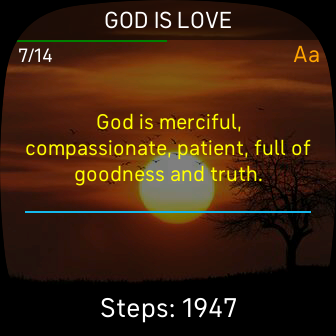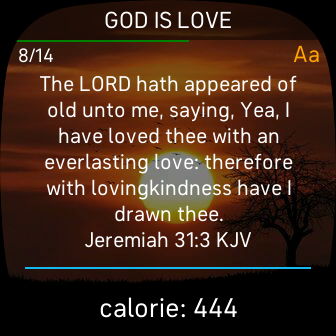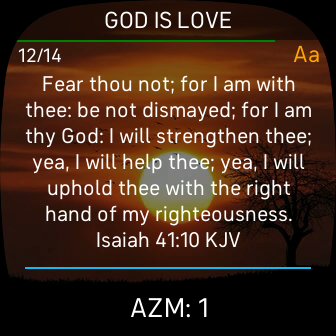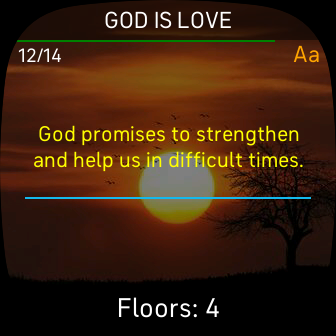 God is love
Giovanni Saberon
6 devices
Available to install from
the Fitbit mobile app
Payment required
This app requires payment and is managed by a 3rd-party developer that is not endorsed by Fitbit.
Proceed with caution.
Payment required
This app requires payment and is managed by a 3rd-party developer that is not endorsed by Fitbit.
Proceed with caution.
Description
Read, Meditate, Memorise bible verses about God is love on your watch.
WATCH VIDEO DEMO
Visit https://gesab001.github.io/fitbit?appName=god_is_love&appType=app
ABOUT GOD IS LOVE
"God is love." His nature, His law, is love. It ever has been; it ever will be. Every manifestation of creative power is an expression of infinite love. It is through His power that summer and winter, seedtime and harvest, day and night, follow each other in their regular succession. It is by His word that vegetation flourishes, that leaves appear, and the flowers bloom. Every good thing we have, each ray of sunshine and shower of rain, every morsel of food, every moment of life, is a gift of love.
The history of the great conflict between good and evil, from the time it first began in heaven to the final overthrow of rebellion and the total eradication of sin, is also a demonstration of God's unchanging love.
The gift of Christ reveals the Father's heart.
God made to our world the wonderful gift of His only-begotten Son. In the light of this act, it could never be said by the inhabitants of other worlds that God could have done more than He did to show His love for the children of men. He made a sacrifice that defies all computation.
FEATURES:
- 14 Bible passages from the King James Version Bible about God is love.
- Each passage includes a short explanation in yellow font which appears at the bottom of each passage.
- Displays current time and date
- Ability to change the font size for readability
- Heart Rate display
- Calories
- Steps
- Distance
- Floors
- Active Zone Minutes (AZM)
HOW TO USE:
- Fitbit OS sets a limit to how many apps can be installed in your watch. If this app doesn't install, maybe you have to delete some apps to make space for this app.
- Tap on the bottom left/right to move between different passages
- Scroll down to the bottom to read a short explanation of the passage
- Tap on the bottom center to toggle between time, steps, calories, active zone minutes, heart rate, floors, distance display.
- Tap on the 'Aa' button to resize font. (Font will become small after reaching the maximum size)
FREE 1 HOUR TRIAL
PRICE: $1.99
HOW TO PURCHASE:
Method 1: To purchase now, visit https://kiezelpay.com/code/?s=45B99D50-74A3-780C-3E13-9377074B11EA&dsu=1662743&p=44752-43854-45493-43543&platform=fitbit
Method 2: After the trial is over, when a code appears on your smart watch device, visit https://kzl.io/code.
TAGS: God Is Love, Bible Memory Verse
CREDITS: Love icons created by Taufik - Flaticon
This app requires a payment that is managed by the developer in-app.