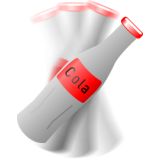 Spin the Bottle
Terry Yuen
6 devices
Available to install from
the Fitbit mobile app
Description
Can't make a difficult decision? Spin a bottle to see where it points to.
This app brings the traditional game of spin-the-bottle right to your watch.
To spin it just flick it with your finger.
Features include:
- Early decay algorithm to make the bottle slow down faster so you aren't left on edge.
- Inertia algorithm so the bottle won't stay still, unless you firmly grip it.
- "Pointy arrow" mode in case there's dispute of who the bottle is pointing to.
Don't settle for throwing dice anymore.
This app is free, period.
Made with Love! Donations welcome! https://www.paypal.me/terryyuen/1.99usd
#free4all