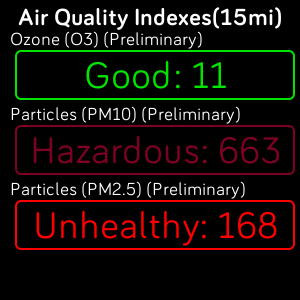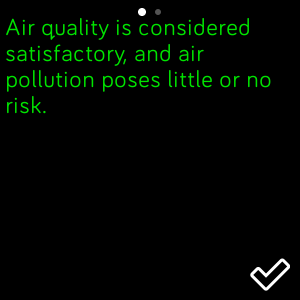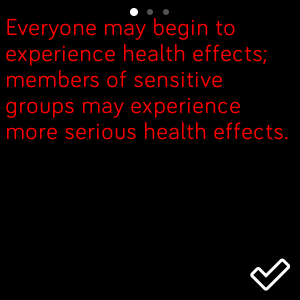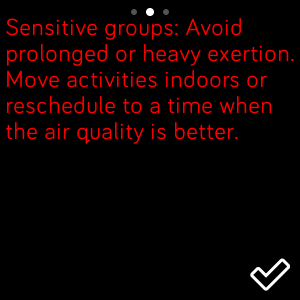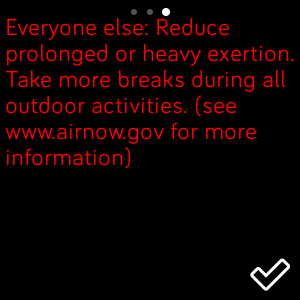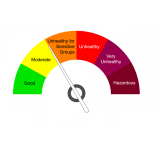 Air Quality Index
Anyware, LLC
4 devices
Available to install from
the Fitbit mobile app
Description
An app to help you know the air quality in your area before exercising outdoors. This app displays the current air quality index (AQI) using the official U.S. AQI, a color-coded index designed to communicate whether air quality is healthy or unhealthy for you. Data are provided by AirNow, which is a one-stop source for all air quality data. Using your location provided by your phone, the app finds the nearest reporting station and displays the AQI for ozone and particles 10 & 2.5 microns or less. Touch on a reported value to see the value description as provided by the Environmental Protection Agency.
To use this app, you must register and create an account at AirNow (https://docs.airnowapi.org/login). AirNow will provide you a unique API key that is entered under the app settings on your phone. Enter the API key as provided by AirNow including any and all dashes. This app uses this API key to get the most relevant reported AQIs using your phone's GPS and network connection.
The app only works in the U.S. and some locations in Canada and Mexico. The user needs to be within 250 miles of a reporting station.