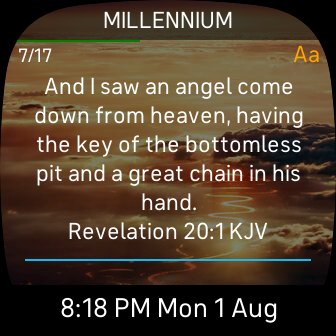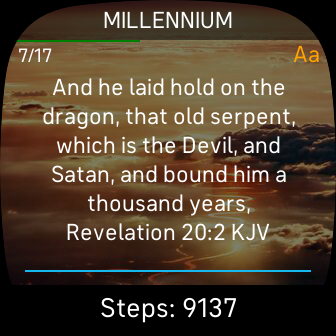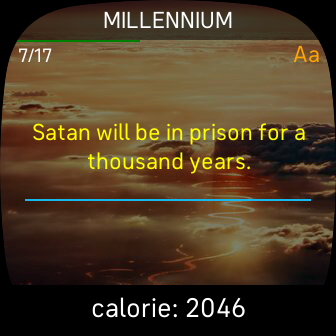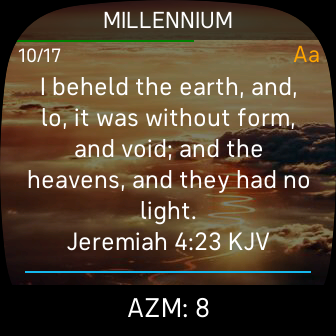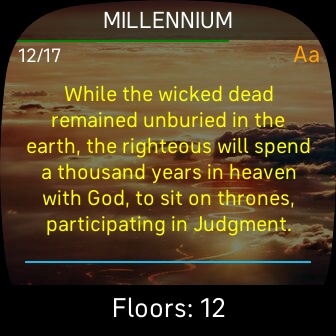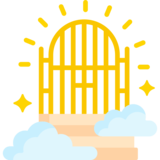 Millennium
Giovanni Saberon
6 devices
Available to install from
the Fitbit mobile app
Payment required
This app requires payment and is managed by a 3rd-party developer that is not endorsed by Fitbit.
Proceed with caution.
Payment required
This app requires payment and is managed by a 3rd-party developer that is not endorsed by Fitbit.
Proceed with caution.
Description
Read, Meditate, Memorise bible verses about the Millennium on your watch.
WATCH VIDEO DEMO
Visit https://gesab001.github.io/fitbit?appName=millennium&appType=app
ABOUT MILLENNIUM
For six thousand years, Satan's work of rebellion has "made the earth to tremble." He had "made the world as a wilderness, and destroyed the cities thereof." And he "opened not the house of his prisoners." For six thousand years his prison house has received God's people, and he would have held them captive forever; but Christ had broken his bonds and set the prisoners free.
Even the wicked are now placed beyond the power of Satan, and alone with his evil angels he remains to realize the effect of the curse which sin has brought. "The kings of the nations, even all of them, lie in glory, everyone in his own house [the grave]. But thou art cast out of thy grave like an abominable branch. . . . Thou shalt not be joined with them in burial, because thou hast destroyed thy land, and slain thy people." Isaiah 14:18-20.
For a thousand years, Satan will wander to and fro in the desolate earth to behold the results of his rebellion against the law of God. During this time his sufferings are intense. Since his fall his life of unceasing activity has banished reflection; but he is now deprived of his power and left to contemplate the part which he has acted since first he rebelled against the government of heaven, and to look forward with trembling and terror to the dreadful future when he must suffer for all the evil that he has done and be punished for the sins that he has caused to be committed.
THIS APP INCLUDES:
- 17 bible passages from the King James Version Bible that explains the Millennium as foretold in the bible.
- Each passage includes a short explanation in yellow font which appears at the bottom of each passage.
- Displays current time and date
- Ability to change the font size for readability
- Heart Rate display
- Calories
- Steps
- Distance
- Floors
- Active Zone Minutes (AZM)
HOW TO USE:
- Fitbit OS sets a limit to how many apps can be installed in your watch. If this app doesn't install, maybe you have to delete some apps to make space for this app.
- Tap on the bottom left/right to move between different passages
- Scroll down to the bottom to read a short explanation of the passage
- Tap on the bottom center to toggle between time, steps, calories, active zone minutes, heart rate, floors, distance display.
- Tap on the "Aa" button to resize font. (Font will become small after reaching the maximum size)
FREE 1 HOUR TRIAL
PRICE: $1.99
HOW TO PURCHASE:
Method 1: To purchase now, visit https://kiezelpay.com/code/?s=45B99D50-74A3-780C-3E13-9377074B11EA&dsu=1662743&p=44752-44356-44250&platform=fitbit
Method 2: After the trial is over, when a code appears on your smart watch device, visit https://kzl.io/code.
TAGS: Millennium, One thousand years, Bible Prophecy, Bible Memory Verse
This app requires a payment that is managed by the developer in-app.