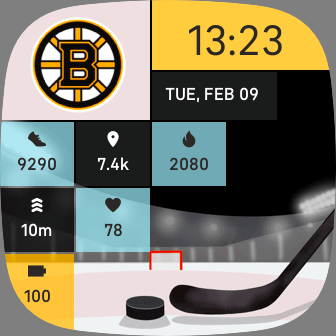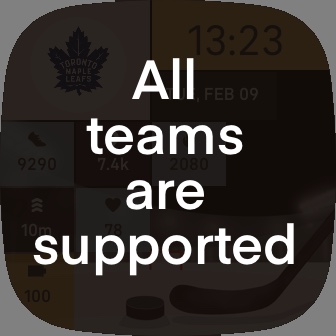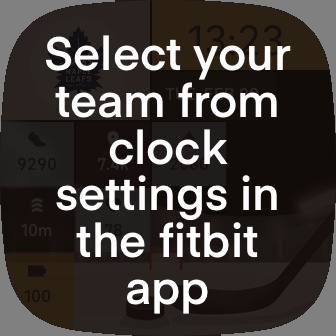 Hockey
Inked Face
5 devices
Available to install from
the Fitbit mobile app
This clock face requires a payment that is managed by the developer in-app.
Description
🏒 🥅 Unlock this cool Hockey themed clock face for a one-time payment of $1.79 (USD). Select your favorite team from Clock settings in the Fitbit App.
This clock is free if you have previously purchased our Sports and Stats bundle.
👀View our exciting bundles here: https://bit.ly/inkedfacestudio or visit our website: https://inkedfacestudio.com
🏒 Teams supported are:
- Anaheim Ducks
- Arizona Coyotes
- Boston Bruins
- Buffalo Sabres
- Calgary Flames
- Carolina Hurricanes
- Colorado Avalanche
- Columbus Blue Jackets
- Dallas Stars
- Detroit Red Wings
- Edmonton Oilers
- Florida Panthers
- Los Angeles Kings
- Minnesota Wild
- Montreal Canadiens
- Nashville Predators
- New Jersey Devils
- New York Islanders
- New York Rangers
- Ottawa Senators
- Philadelphia Flyers
- Pittsburgh Penguins
- San Jose Sharks
- St. Louis Blues
- Tampa Bay Lightning
- Toronto Maple Leafs
- Vancouver Canucks
- Vegas Golden Knights
- Washington Capitals
- Winnipeg Jets
- Seattle Kraken
⏰The clock supports 12/24 hour format, date, time.
🥾It also displays the heart rate, battery level, steps, calories, distance, and active minutes
💵To buy this clock face, you need to:
1. Go to https://kiezelpay.com/code/
2. Add the code you see on your watch and follow the steps presented on KPay
If you like the clock, send some love by rating our clock ⭐️⭐️⭐️⭐️⭐️
tags: sport, game, hockey, ice hockey, NHL, America, Canada, Canadian, US, USA, men, stick, puck, goal, stadium, match, championship, league, score, new year, 2021, season
credits: All logo images are credited to the official websites of the teams/clubs.
This clock face requires a payment that is managed by the developer in-app.