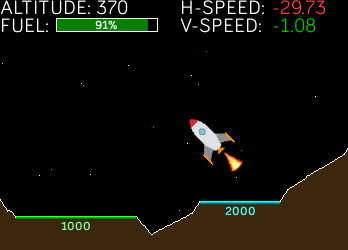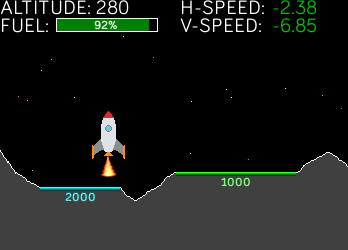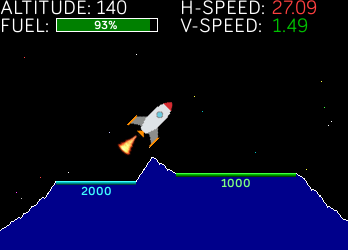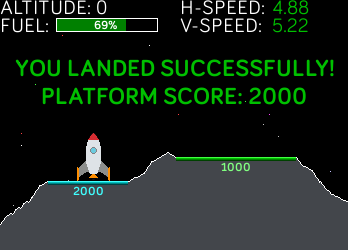 Astro Lander
Keith Cheesman
1 device
Available to install from
the Fitbit mobile app
This app requires a payment that is managed by the developer in-app.
Description
An adaptation of the classic lunar lander style game... Land your spaceship successfully on one of the two landing pads on the planet surface. Your horizontal and vertical speeds (indicated at the top right of the screen) must be lower than the maximum allowed values for the difficulty setting (the values turn red when you are going too fast and green to indicate you are within the tolerance values).
Tap the screen to apply thrust to slow down your descent... you can apply vertical thrust by tapping directly below your spaceship or thrust in a left or right direction by tapping on the left or right of your spaceship. Thrust will use up your fuel supply (which is indicated as a percentage at the top of the screen). Note that if you apply too much thrust and your spaceship goes off the top of the screen you will lose the game!
Successful landings will be awarded points based on the platform size (small or large), horizontal & vertical speed, fuel remaining and the amount of time taken.
(Note that for a successful landing the spaceship must be in an upright orientation when touching down on the landing pad).
The game gets progressively harder with each level as the gravity increases and the landing platform widths decrease.
The game can be paused at any time by pressing the top right button and resumed by pressing any button or by tapping the screen.
Astro Lander has a free 30 minute trial period after which a one-time payment of $0.99 is required via KiezelPay.
To buy go to https://kzl.io/code and enter the code you see on your watch and follow the steps on the KiezelPay website. If you have already purchased go to https://kzl.io/unlock to unlock for free.
Enjoy!
FEATURES
• Realistic Physics
• Randomly Generated Lunar Surfaces
• Ship thruster animation
• Three difficulty Levels (Easy/Medium/Hard)
• Persistent High Score
This app requires a payment that is managed by the developer in-app.