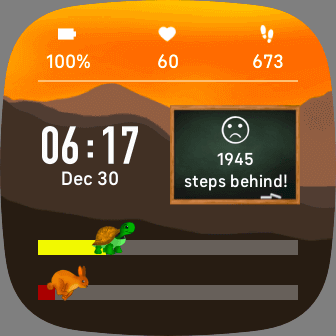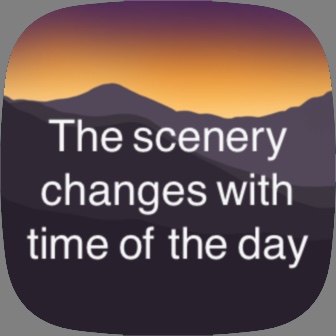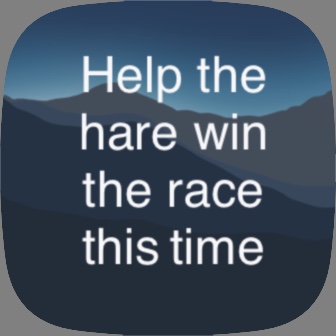 Game On
Inked Face
5 devices
Available to install from
the Fitbit mobile app
This clock face requires a payment that is managed by the developer in-app.
Description
🐢 🐇 This time, the hare cannot let the tortoise win the race. The tortoise keeps moving slow and steady throughout the day to achieve the steps goal. Your job is to keep the hare ahead of the tortoise at all times and win the race. Unlock this clock for a one-time payment of $1.49(USD). GAME ON!!
❓How to use this clock face❓
1. If your step goal is X steps, the tortoise will complete X steps in 24 hours at a constant speed.
2. The hare will move the number of steps you have completed.
3. The message board will display the number of steps the hare needs to reach the tortoise.
4. You need to stay ahead of the tortoise and win the game (complete the steps goal)
👀View our exciting bundles here: https://bit.ly/inkedfacestudio or visit our website: https://inkedfacestudio.com
⏰The clock supports the 12/24 hour format, date, time.
🥾It also displays the date, time, heart rate, battery level, steps, calories, active minutes, and distance. Cycle through various stats by tapping on them.
💵To buy this clock face, you need to:
1. Go to https://kiezelpay.com/code/
2. Add the code you see on your watch and follow the steps presented on KPay
If you like the clock, send some love by rating our clock ⭐️⭐️⭐️⭐️⭐️
tags: goal, growth, game, race, win, target, compete, goal based, animal, nature, scenery, mountain, landscape, day night, play, tortoise, hare, story, book, tale, fable, history, old, vintage, wise, motivational, motivate, inspire, inspirational, go
credits: Message board image from Freepik.
This clock face requires a payment that is managed by the developer in-app.