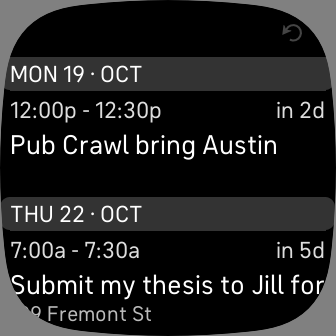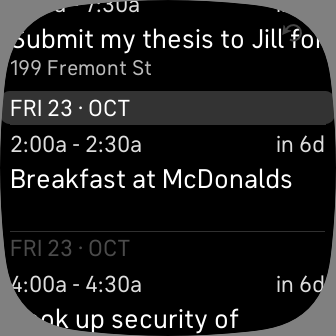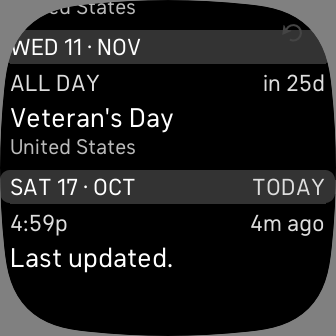 Events
Terry Yuen
6 devices
Available to install from
the Fitbit mobile app
Description
Shows events from your Microsoft Outlook/Office 365 Calendar and todos from your Outlook Tasks for the next 25 days in a list view.
Features:
- Events from multiple calendars (e.g., shared cals) are shown in the same list
- Todos/Tasks are shown inline in the calendar list
- Shows a relative time next to the real time (e.g., in 2h 30m)
- Shows the event location
- Events are saved on your watch for offline use
Limitations:
- The list cannot show past events/tasks/todos
- Todos cannot be marked done
- Unlimited events but a max of 2 lines per event
- Events only sync when pressing the button
You need to login to your Outlook account first from the phone's app settings page. Then click the right icon on the watch to sync.
This third-party app is not affiliated with Microsoft. All data is sent only to Microsoft.
Made with Love! Donations welcome! https://www.paypal.me/terryyuen/1.99usd
#free4all