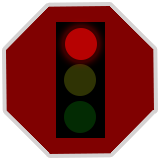 Stop Light
Ben Perkins
4 devices
Available to install from
the Fitbit mobile app
Description
Stop Light is a simple utility designed to keep your device screen dark. If you're at the movies, at a concert, trying to sleep -- these are all times when a bright flash of light from your wrist can be annoying or even rude. Sure you can turn off "Screen Wake", but what if you want to check the time? Or if you clap at a concert and your Fitbit thinks you tapped it? What if a text message comes through?
Stop Light solves all of these problems by providing a dark, minimal clock that automatically turns itself off after one second.
Note: This is an app, not a clock, so you can keep your favorite clock-face but still have this handy when you want to turn the lights down.