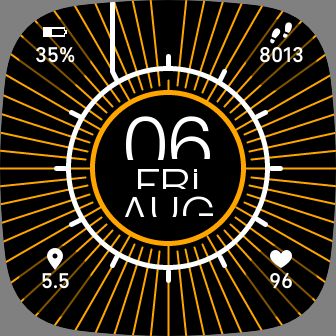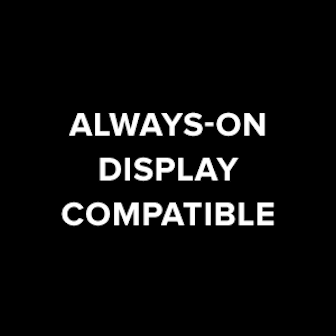 Sunny
Nev Rawlins
6 devices
Available to install from
the Fitbit mobile app
Description
A stylish analog clock face that brightens your day. Hours are shown with the bar extending from the outer ring in usual analog positions. The minute is the last orange line radiating out from the inner ring, also in usual analog positions. Partial font for day of month, day of week and month adds a cryptic feel.
Note. 15, 30 & 45 minutes can still be identified when the matching hour is set, by the extended orange line within the hour ring.
Always-on Display compatible – requires Versa 2, Versa 3 or Sense with AOD enabled.
Information in the corners can be changed in settings.
The animation cycles through:
(1) 7:56 Saturday May 25th
(2) 9:16 Wednesday April 17th
(3) 2:33 Friday August 30th
(4) 12:00 Saturday July 6th
This design was created by José Manuel Otero, from Spain, and is published with his permission. You can follow him on: https://www.facebook.com/TTM-Technotimemachine-578290348850436/timeline/