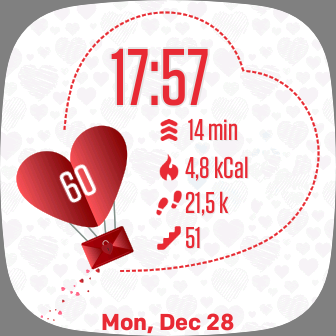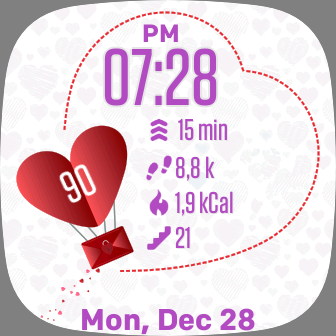 Happy Valentines
AmazingClockFaces
5 devices
Available to install from
the Fitbit mobile app
This clock face requires a payment that is managed by the developer in-app.
Description
🍀 Check our bundles ( up to 98% OFF 💰) tap here: 🔗 https://cutt.ly/AmazingClockFaces
⏰Watch Face displays:
🔥 Calories monitor (Kilojoules / KiloCalories)
👟 Steps Counter
⛰️ Floors monitor ( 🔋 Battery monitor for ⌚ Versa Lite )
🏃 Active Minutes Zone
❤️ Heart rate monitor
⌚ 12/24 Hour Format
📅 Date Display
💁🏻 Fast Support
⚡ Energy Efficient
👉 Clockface only costs 0.99$. (Lifetime purchase).
👉 Payment is possible via Paypal or Credit Card 💳.
ℹ️ You can customize the clockface by going into companion section of the face using your Fitbit Mobile Application.
⚠️ For installation, download the watch face using Fitbit Mobile App and follow the on screen watch instructions. If you already bought a bundle or clockface but the watch ask for activation again follow on screen instructions and opt for already bought product ( remember all purchase are for Lifetime ).
🏷️ tags: magicmoments magic nature love autumn november leaf fall thanksgiving autumn nature fall autumnvibes love october landscape autumncolors halloween travel beautiful fashion leaves naturelovers forest trees sunset beautiful, pretty, pink, cute , adorable, glossy, fashion, love, spring, summer, winter, autumn, nature, flowers, elegant, romantic, floral, passion, red, blue, pink, colors, traditional, flowerpower, garden, orchid, daisies, gerbera, lilies, roses, sunflower, tulips, watercolor, flowers, flower, leaves, holiday, vacation, island, sea, ocean, palm, coconut, vibrant, circle, future, heart, love, loving, girlfriend, boyfriend, weeding valentineday beautiful couplegoals followforfollowback memes relationshipgoals hearts valentinegift #giftsforhim valentinespecial cute rose lovequotes beauty romance friends couples sweet smile loveyourself
This clock face requires a payment that is managed by the developer in-app.