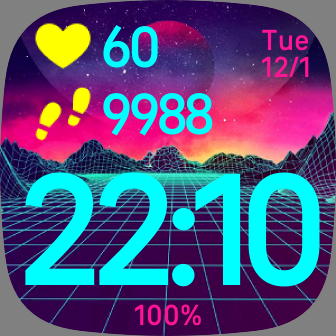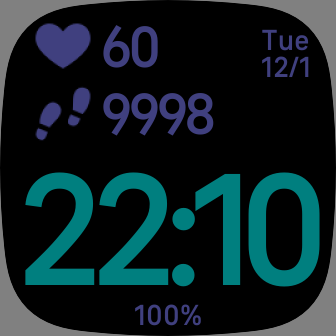 Outrun Clockface 2.0
Forty_Seven
2 devices
Available to install from
the Fitbit mobile app
Description
80's Outrun themed clock face with rotating heart rate/steps and calories.
Heart rate cycles Cyan (low or normal heart rate zone), Pink (Fat-Burn), Red (Cardio), Yellow (Peak). If a custom zone is in place it uses Cyan for below, Pink for in, and Red for above. Calories are colored Cyan until the calorie goal is reached and then it turns Yellow.
In addition I added a "dark mode" if you tap on the charge % it will switch to a darker and more subtle color scheme, tap again to switch back.
Date and Charge are also listed
Beer money is appreciated if you enjoy it: paypal.me/Nbechst