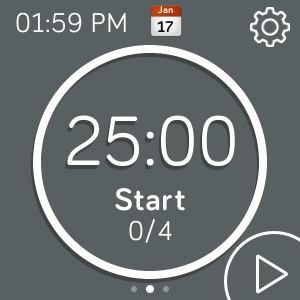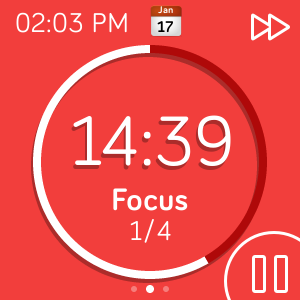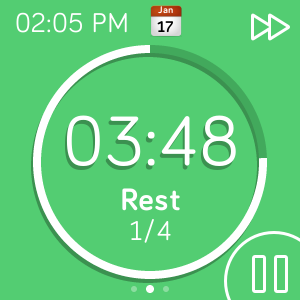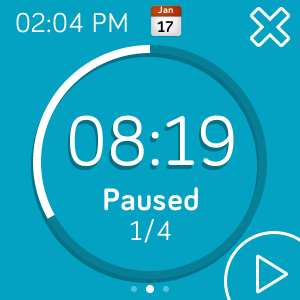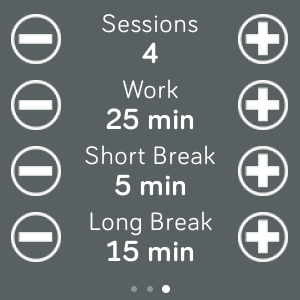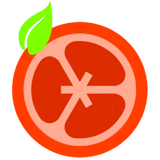 Just Focus
ProductivityApps
3 devices
Available to install from
the Fitbit mobile app
Description
"The price of excellence is discipline. The cost of mediocrity is disappointment." – William A. Ward
Track your work and attain maximum focus with this customizable Pomodoro App.
The Pomodoro Technique consists of alternating 25 min work sessions with short rest times. Several studies have shown that the Pomodoro technique can improve concentration and productivity*
- Click play to start a session
- Focus for 25 minutes. Avoid all distractions.
- Give yourself a break when the work session is done (the watch will vibrate to notify you)
- Repeat!
Features:
- Track your time
- Configure Pomodoro session time, rest time and number of sessions
- Vibrate when your session is over, even if the screen is off
- Show you the time and date while you work
Coming soon:
- Motivational quotes for extra motivation
- Sessions statistics
Scientific articles about the Pomodoro Technique:
https://facilethings.com/blog/en/science-behind-pomodoro-technique
https://www.sciencedaily.com/releases/2011/02/110208131529.htm