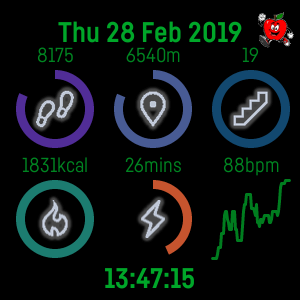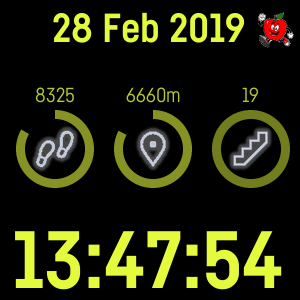 Running Apple
Dennis Balemans
4 devices
Available to install from
the Fitbit mobile app
Description
This is a stats-heavy clock face with the ability to switch off the clock on certain days of the week for those who do not want to constantly know what time it is.
It shows the usual stats in text as well as pie-chart graphs and heart rate as a running line graph. The pie charts change colour intensity to darker as the stat value gets closer to the day goal. It is configurable to show all pie charts or a selection only.
The value for the primary goal is shown in bold face.
Colours and line thicknesses are customisable, as well as the days of the week the clock will be shown. If turned off, a clock icon will appear - click the clock face to reveal the clock for a short while.
Developed for the Fitbit Versa 2™ and Fitbit Versa™, Fitbit Versa Lite™ and Ionic™.
1.4.0: support for Fitbit Versa 2™, fixes.
1.3.0: support for Fitbit Versa Lite™ and continuous heart rate monitoring while display is off.
1.2.1: click the entire clock face to show the hidden clock instead of just the clock icon.